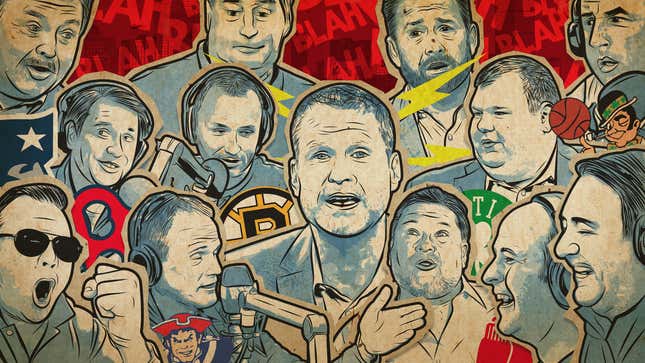 Every day, it seems, a different Boston sports radio dipshit is delivering a take from a time when segregation was acceptable, getting attention for being five seconds away from challenging a listener to a parking lot fight for Tom Brady's honor. Although you may not pay attention to these awful stunts, spats, and takes on a day-to-day level, they still happen, and it can be hard to keep up when one turns national. Who is "Dennis Callahan"? Is "Toucher and Rich" a real name? Ideally, this field guide to Brighton's worst will answer your questions without doing too much to poison your mind.

How running an NFL team is like running a restaurant | Chef Emeril Lagasse
Michael Felger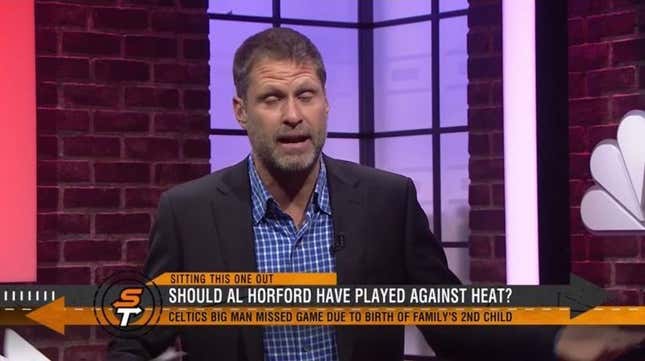 "Felger," one half of Felger and Mazz, is a former Boston Herald writer. His focus was football, though he did once have to run a retraction after writing that Bruins owner Jeremy Jacobs was a "thief" and being threatened with legal action. Starting in 2000, Felger was a presence on The Big Show hosted by Glenn Ordway—more on him later—and moved to radio full-time when he went to 890 ESPN Boston in 2005. He returned to WEEI in 2008 until his jump to 98.5 The Sports Hub when it began in 2009. (These two stations necessarily come up a lot in any discussion of Boston sports radio, because they're the two pillars of the field. Anyone else is pretty much fighting for scraps. Additionally, as of February, both are now owned by the same parent company. The radio lunks still take shots at each other, but like most things in radio, a lot of it's for show.)
Felger's voice has gotten louder and dumber over his years on the airwaves. During a 2011 rant about the Red Sox, he suggested that catcher Jason Varitek and NESN sideline reporter Heidi Watney were secretly humping. The next day, Felger apologized to Watney and called his comments "regrettable." His recent hobby horse has been paternity leave. Felger hates dads who take off work to spend time with healthy newborns. He has whined about the Red Sox's Eduardo Rodriguez, the Celtics' Al Horford, and his own coworker, Michael Hurley, doing it. No one has yet been able to successfully explain to this enormous stooge that a work-life imbalance isn't the same as masculinity.

Tony Massarotti ("Mazz")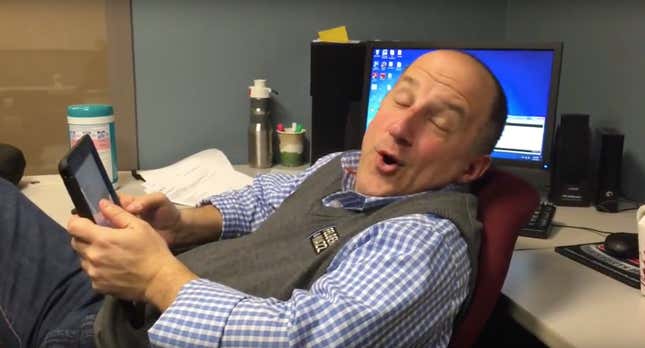 Felger's tag-team partner is also a former Herald guy, who also used to co-host The Big Show at WEEI. When Massarotti left for the Boston Globe in 2008, he was no longer allowed to be on the station, due to the paper's ban on writers' appearances. (Supposedly, the embargo started when Globe writer Ron Borges failed to correctly regurgitate the late Yankees owner George Steinbrenner's description of pitcher Hideki Irabu as a "fat pus-sy toad," and instead called him a "fat Jap.") Now Mazz is one of Twitter's worst users:
Massarotti used to be a decent beat writer; his bread and butter was the Red Sox. These days, he acts as an equally noisy yes-man for Felger, which can turn the show into two people yelling at each other about how much they agree on a subject. Their discussion of The Dress with a caller is an accurate example of how they prize being emphatic over thinking for a second. The show's run by two of Ordway's guys, which makes it sound like a less sloppy version of a WEEI show.

Scott Zolak ("Zo")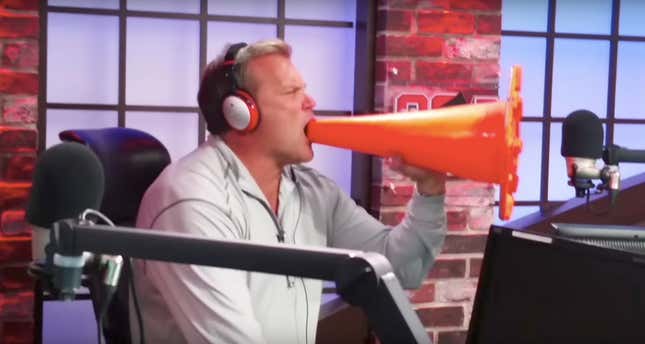 A former Patriots quarterback who played from 1992 to 1999 in the NFL and was once involved in a poorly executed stage dive at an Everclear show, Zolak was paired up with Gresh but now runs a show with Bertrand. In addition to his daily duties, Zolak also works as 98.5's radio analyst for Patriots games. "Your Love" by The Outfield gives him a boner. His tweets should be read as if he's yelling them while watching sports, because he is:
You might recognize his sandpaper voice from a call on Tom Brady's touchdown to Kenbrell Thompkins in a 2013 Saints-Patriots game, in which he bellowed, "Unicorns! Show ponies! Where's the beef?!"

Zolak's shtick, as you've probably noticed by now, is that he never shuts the fuck up.
Andy Gresh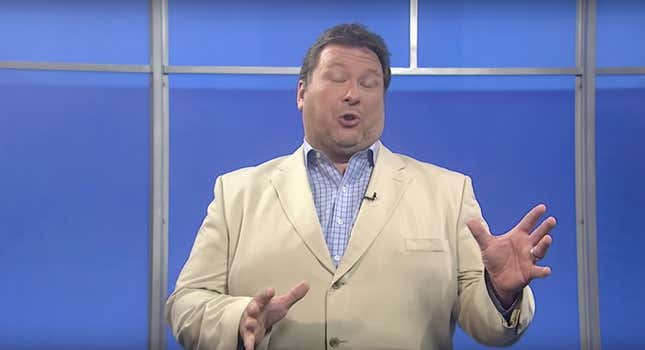 Gresh was Zolak's partner on 98.5's Gresh and Zo, a program ideal for the hard of hearing. The pair had the standard beery, loud sports arguments. Take this conversation with Boston Globe columnist Dan Shaughnessy after the Patriots beat the Seahawks in Super Bowl 49:
Gresh left the station in 2015, currently helms a Monday-Friday program on Providence's WPRO, and contributes to a few different places.
Marc Bertrand ("Beetle")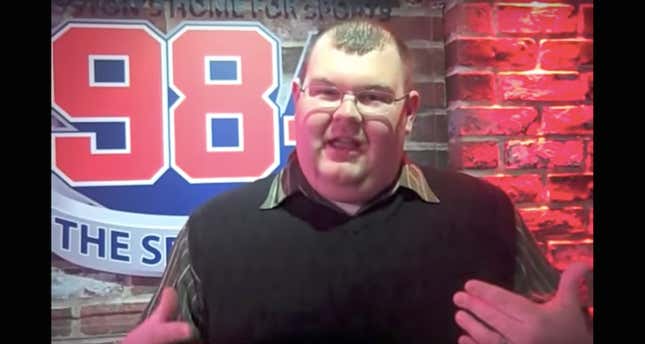 There's not much to say about Bertrand, other than that he replaced Gresh as Zolak's partner in 2015.
Glenn Ordway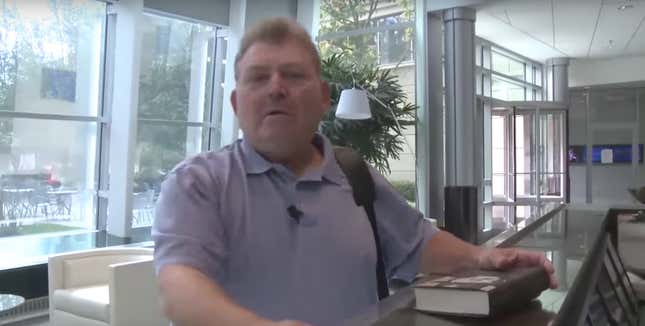 A WEEI veteran who left in 2013 and came back roughly two years later, Ordway currently shares a show with Lou Merloni and Christian Fauria, but he's significant because his takes helped the station thrive in the 1990s and aughts with The Big Show, a program he co-hosted until he was fired in 2013. He legitimately changed the structure of Boston sports radio. The most entertaining sports radio should resemble pro wrestling; Ordway, apparently understanding this, developed a roster of personalities to attract listeners and keep them invested. The Big Show helped Felger's popularity (as well as Massarotti's), as John Wolfson's Boston magazine feature illustrated:
Ordway feigns exasperation. He teases Felger for being one of those negative writers who have to ruin everything. Felger, his face glowing red, says he's willing to stand up for his beliefs. "That would be a tough opinion," he yells, "and Big O doesn't make those!" Ordway yells right back, suppressing a smile. In the face of Felger's blast, the host keeps making side jokes, looking at the other guys on the show, drawing them into the argument. The breezier he gets, the greater Felger's fury. Ordway is in complete control, playing actor-director in another made-up melodrama. He takes a call from a guy named Matthew, who begins by saying Felger is an idiot. The Herald sportswriter waits for Matthew to finish describing the beauty of Renteria's bunt. Then he calls him a jackass. Everyone cracks up. Except Felger.

During a commercial break, Felger jerks off his headphones and turns toward me. "Big O's lucky to have me. You should put that in your article," he says, his face flushed. "I'm the only one who challenges him."

"We love Michael," Ordway replies. "We're goofing! This is not real. This is a radio show."

"That's the worst part of this, of sports radio," Felger says. "'You're an idiot! You're an idiot!'"

"What were you before this?" Ordway asks him.

"I was a nobody."

"See?"
The strategy was duplicated and imitated, and like all things eventually grew worn out. In today's landscape, Ordway's opinions are replacement-level for an old white from Massachusetts. Although he might have boasted about being the only guy who can truly tell it like it is, he refuses to break any new ground with his insight. That might be connected to the fact that Ordway hasn't changed his appearance in years:

The current iteration of Ordway has as much heat as Steven Wright's fastball. He also seems to struggle with reading comprehension:
And math:
What's the deal with being offended, folks?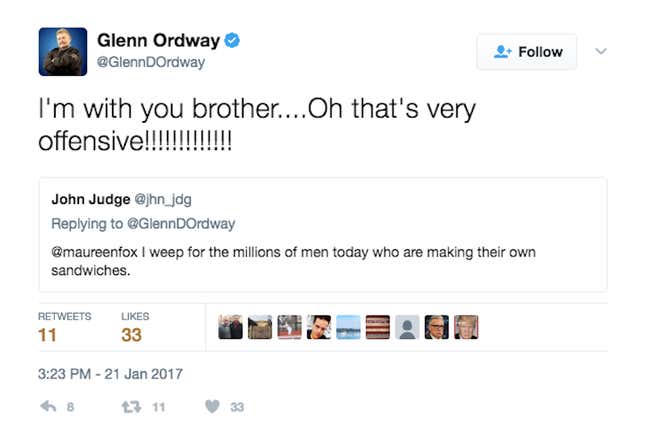 Ordway has had his feuds. His show's criticisms of Around the Horn's Bomani Jones and Israel Gutierrez—who raised their eyebrows at Celtics fans cheering for then-opponent and white basketball player Gordon Hayward (welcome to Boston!)—supposedly led ESPN to ban anyone from appearing on WEEI in January of this year. (It's a good segment, if you want to hear three mooks gloss over Boston's history quickly and discuss the real racists.) Ordway has also quarreled with Bill Simmons for years.
Lou Merloni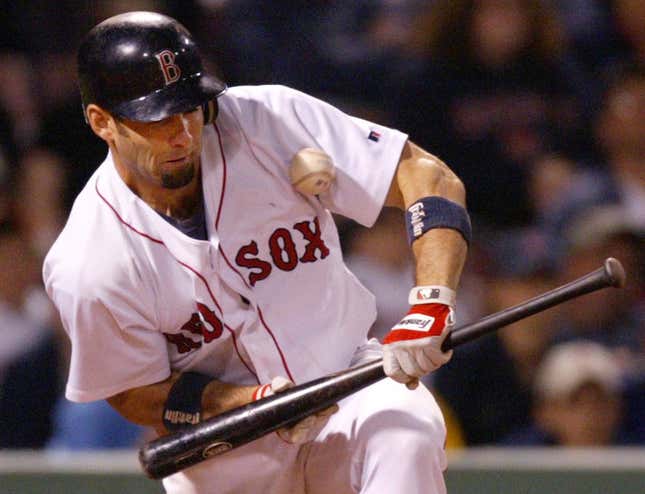 Did you know Lou Merloni played baseball? Yes, Lou Merloni played baseball. It might be hard to remember, because Ordway's co-host only refers to his former career every two minutes. Take an average baseball analyst, give him a lobotomy, and the result is what Framingham's finest has to offer:

Toucher and Rich

Fred Toucher and Rich Shertenlieb make up Toucher and Rich, a show on 98.5 that focuses more on comedy bits and goofy recurring features over screaming matches. Deadspin has written about some of their segments, like when they sent one of their employees to tell Rick Reilly jokes verbatim at a comedy club, or analyzed the mysterious caller who sounded a little bit like Tom Brady. They're willing to poke fun at Boston, because neither of them are from there. The duo had a brief feature called the Townie Test, and here's a conversation in which they asked callers for Boston traditions that should go away:
The fun thing about Toucher and Rich is that they go off the beaten path and talk about whatever they want, and it might not necessarily be last night's game. That might not appeal to the older sports hardasses in the region, but they still find listeners regardless.
Adam Jones
This guy has a five-hour show on weeknights for 98.5. I know nothing about him other than that that he's not the Bengals cornerback or the Orioles outfielder.
John Dennis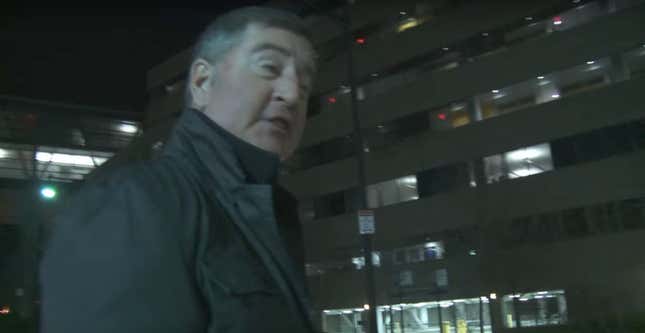 Dennis no longer hosts Dennis and Callahan on WEEI, but he'll always be indelibly associated with that show due to an incident that took place when he did, at a time when he was able to show his true colors. In 2003, he and co-host Gerry Callahan were suspended for making this joke referencing Metco, an inner-city student busing program:
The remarks by Dennis and Callahan were made during a news segment of the program on Sept. 29, as the two hosts bantered about a gorilla that had escaped from the Franklin Park Zoo. "Yeah, yeah, he was a Metco gorilla," Dennis said.

"Heading out to Lexington," Callahan replied.

"Yeah, exactly," Dennis said.
Dennis also had a beef with ESPN radio host Ryen Russillo that started with a voicemail left in 2005. The former WEEI employee called Russillo a "fuckin' drunk," accused him of hitting on Dennis's daughter, and challenged him to a fight. (The two were also involved in a 2012 altercation at a Super Bowl party.)
Although Dennis no longer has to deal with the daily responsibilities of making racist observations and beefing with radio guys, his personality hasn't changed. His tweets resemble those of a more unhinged Curt Schilling:

Dennis, who has openly talked about his issues with alcohol, abruptly resigned as a host of Dennis and Callahan last August. Hopefully, he's in better spirits off the air.
Kirk Minihane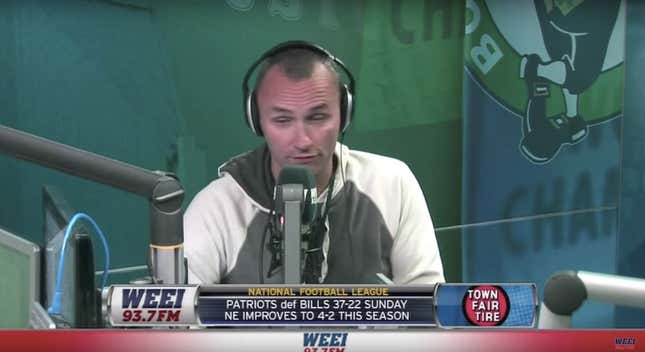 Kirk is the rat a ratfucker fucks. He is on the lowest rung of the ladder that is Boston sports radio, which is quite an accomplishment. He replaced John Dennis as Gerry Callahan's partner for Kirk and Callahan on WEEI, which is like replacing the rat a ratfucker fucks with a dead rat. Minihane was suspended in June of 2015 for getting into a shouting match with co-host Christian Fauria. He lost a gig on CSN New England in October of 2015 after joking that the Patriots should "hire somebody to murder" NFL commissioner Roger Goodell. He called Erin Andrews a "gutless bitch" in 2014, and in his apology remarked, "I think if she weighed 15 pounds more, she'd be a waitress at Perkins." He and Callahan received national attention when Giants WR Brandon Marshall walked off in the middle of a July 13 interview after they questioned Marshall about his belief that the NFL treats white and black stars differently.
Unless you reanimated Strom Thurmond with Colin Cowherd's brain, you would be hard-pressed to produce a more off-putting talking head than Minihane—and if you did, he would relish the idea of reclaiming his title as the worst. Every time he speaks, the physical laws of the universe are defied as the stench of desperation travels through the speakers.
There is a reason Minihane cosplays as the worst version of a Boston radio goon: If he played it straight and gave his maximum effort, he wouldn't even be on the air. All he has is his ability to taint every soul unfortunate enough to hear him. His campaign of being openly loathsome has finally paid off, as spring Nielsen ratings showed that his program finished in first place for the 6-10 a.m. time slot for the first time since 2014. Why try when scraping the bottom of the barrel works?
Gerry Callahan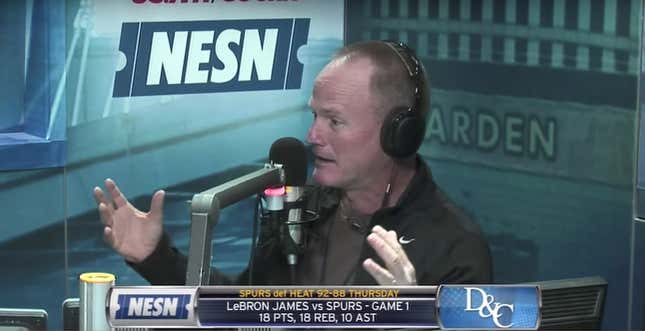 A man whose resting expression is that of someone who is simultaneously looking into the sun and smelling a fart, Callahan was the Leopold to Dennis's Loeb, and their victim was coherent thought. He merely added on to the infamous Metco gorilla joke, but he's capable of producing incisive commentary on his own without any help:

Callahan, like others, opened up his own investigation into Orioles outfielder Adam Jones's claim that a Red Sox fan had been racist in Fenway Park:
Donald Trump loves him, and that guy's never had questionable taste:

Callahan used to be a relatively sane sportswriter. For a few years in the '90s, he wrote for Sports Illustrated, and although some of it was the standard trite copy you might expect, there were some actual relatively smart lines. I have no problem admitting that I smiled at this paragraph in an article about overcrowding at the 1996 Atlanta Olympics:
A good deal has been written about the high temperatures that suffocate this city, but the fact is, there are more-annoying obstacles. In Atlanta these days, it is not so much the heat as the humanity. A local Olympic official admitted that the downtown area has become a bit "cluttered," which is a nice way of saying if one person comes down with chicken pox, we're all in trouble. It's one thing to sweat through your shirt, but it's quite another to learn that the perspiration actually belongs to the guy behind you in the line for the rest room.
Here's how Callahan described Red Sox first baseman Mo Vaughn when lobbying for the hitter to win the AL MVP in 1995:
As usual, Vaughn's act doesn't fly. It rarely does these days. He is one of the best things to happen to baseball this season, on the field and off, but he still prefers the hard-guy, hip-hop style. He looks mean. He walks mean. He wears his hat mean and waves his bat mean. Some people resemble their pets; Vaughn resembles his car—a Hummer.

He's 6'1" and 245 pounds, his head is shaved, and his right biceps is branded with interlocking omegas, Greek letters representing his college fraternity, Omega Psi Phi, but the word is out: Beneath the intimidating veneer is a different kind of Boston player, a leader and a gentleman who has lifted the Red Sox to great heights and taken thousands of inner-city kids along for the ride. Baseball may have its problems, but Boston has Mo Vaughn.
Although time takes its toll on everyone, maybe this speaks more than anything to the basic realities of the industry. It could be that sports radio attracts monstrous loudmouths or that it turns otherwise normal people into monstrous loudmouths, just as it could be that Boston attracts the worst of the worst or that the worst of the worst are the worst because they're in Boston. As noted throughout, though, many of these guys started out as unremarkable or even decent writers. It seems that something about radio must lead to brain decay. So much is demanded from personalities, and everyone wants direct, thunderous opinions even if they aren't particularly interesting or fully finished. It's true that this dynamic works in several different forms of media, but the worst-case scenario is clearly radio, where the budgets are lean, the competition is starved, and the more reliable way to stand out is to be as repulsive as possible. And when you have to do all this in a region that prizes sports takes so dearly, well, that can do weird things to a man's condition.