Your letters:
Lars:
So some girl is going down on you and you have to fart. What do you do? What's are the rules fart-felatio etiquette? Do you hold it in and risk some leaking out or pressure building up to create some horrible, terrible mass of gas destruction or do you get it over with and pepper spray your poor, unsuspecting love interest? Please help.
In a perfect world, you hold it in and get on with your business. But you and I know that's not always a realistic option. You and I both know that some farts are quite insistent on barging out of your asshole NOW, AT THIS VERY MOMENT. And so holding it in becomes this terrible internal struggle that you know, deep in your heart, you aren't going to win. It's such a horrible feeling, knowing that a fart has you painted into a corner with no way out and little time to act. That's a MEAN fart, one that has a habit of turning up in elevators and during job interviews and what not.
Anyway, there are two options here. First off, if you're getting blown by someone you trust and love and deeply care for (BAHAHAHAHAHAHAHAHA), you stop them and you say to them, "Christ, you know what? I have to go to the bathroom. I'm so sorry." You can even be self-deprecating about the issue. "I know you're going to find this an impossible turn-on, but I really do need to use the toilet." CHARMER. Then you go and fart in the bathroom without the sexual momentum evaporating completely.
But if this is a Drunken Hookup situation, where even the slightest pause in momentum means your hookup is OVER, then I say you let it fly as quietly as possible. First off, she's drunk, so maybe she won't even notice. Secondly, your balls likely smell terrible, which means she's not going to be choosy either way. Thirdly, you're likely getting blown on a bed, perhaps even on top of your own comforter or blanket. THAT'S GOOD FART-MUFFLIN'.
Mike:
Can you order pizza on an X-Box yet? It seems perfect for when you're too lazy to even pick up your smart phone to order a pizza. Just keep gripping your controller and staring at your TV.
G/O Media may get a commission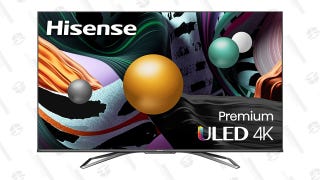 Save $350
Hisense ULED 65" Android 4K HDR Smart TV
If your game console is connected to the Internet, you can pretty much order anything you like to be delivered to your door. In fact, Sony strategically placed a Pap John's ordering button on the PS3 browser homepage, so that you didn't have to go to the Herculean effort of locating the actual Papa John's website online. So it should be easier than ever to have ol' John Schnatter and his creepy eyebrows come busting down your door and shoving a lukewarm, shitty pizza right down your foodhole.
Of course, this still involves pausing your game and getting up to go answer the door, which is bullshit. We've talked about human teleportation here at the Funbag before, but it could be that the teleportation of OTHER crap is a far more important field of study. Reader Blake noted that scientists recently were able to teleport quantum information (?) the distance of one meter, which isn't half bad, as far as teleporting quantum information goes. The real fantasy is to be able to push the button on your Xbox and have the pizza APPEAR right before you, piping hot and freshly made, and without any pesky penis-mutating radiation emanating from the pie as a result of the process.
Jon:
My wife and I recently got married. We shower together often, and I'm curious what the protocol is on peeing in the shower when she's in there? I haven't done it at all since we've lived together, but I'm starting to wonder if that's something I have to give up unless I'm showering alone.
I wouldn't do it with her in there. And the reason why I wouldn't do it with her in there is because SHE might think it's okay to do it as well. Ever watch a woman urinate? It's like someone took an axe to a sewer pipeline. It's CHAOS.
Rob:
Do you think that I can take a coyote one on one, with no weapon? I'm fairly certain I can. I'd let him bite my left arm (I am right-handed, collateral damage), pin him down, and rip his throat out.

Am I delusional? What do you think?
Well, it's a coyote, so that means it's kinda like a dog, right? How nasty can they be? I don't see any reason why you couldn't...
/looks at picture
OH SWEET FUCKING MOTHER OF CAIN! Your plan is MOOT. It's one thing to calmly state that you'll let it bite your left arm while murdering it with your right. That assumes you'll have no visceral reaction to the coyote actually sinking its fangs into your tender flesh and ripping out the muscle with its powerful jaws. You're not gonna be like, "Haha! A perfect diversion. Now to strike." You're gonna be like GAHHHHHH GETITOFFGETITOFFGETITOFF!
Wikipedia notes that there are only two known instances of a coyote killing a person. One was a mass coyote attack, so it took more than one coyote. The other attack was on a toddler, and that doesn't count because toddlers are stupid and weak. Because coyotes are relative small in size, you could probably kill it EVENTUALLY once attacked, but it's gonna do its damage. I promise you that. You're not gonna be able to say MEEP MEEP and just run past its supply of magnetized bird feed quite so easily.
By the way, did you know there's a coyote-wolf hybrid called a coywolf? What a terrible name for a lethal predator. "Maybe I'm gonna attack you, and maybe I ain't. SORRY TO BE SUCH A COYWOLF."
Jeff:
What is it about a fire that is so mesmerizing and satisfying? I had a bonfire in the backyard the other night and the wife and I sat there for hours, enraptured by the flames, and we talked the night away.

Put us in an empty room and ask us to do the same thing and there's no way we would tolerate each other for three hours.
Any seasoned Man Vs. Wild viewer knows that FIRE IS SO IMPORTANT, NOT JUST FOR WARMTH BUT MORALE AS WELL. Seriously though, I love fire so much that I have to restrain myself from walking into it and burning myself to death. I eyebang any and all fire with a feverish intensity, like if I stare hard enough, my dead grandpa's face will rise out of the ashes and start giving me stock tips. I was in Milwaukee last week and the hotel I was staying in had a roaring fireplace in its breakfast room. I could have sat there for nine hours staring at the thing. It made me feel classy.
There need to be more open fires around the country, and not just ones that are there to honor dead people. We need a whole branch of FIRE TOURISM in this country, with eternal bonfires raging along some of our beaches, and fire waterfalls outside of Vegas casinos. And EVERY bar should have an open fire pit on the patio for me to get drunk and spit into. THE SPIT SIZZLES IN THE HEAT. When I'm rich, I'm gonna build a house of fire, just like Alice Cooper did.
Andy:
Sweet lady driving this was an estimated 55 years old
Cummin' > Strokin' > Tebow
KOGOD:
Did you watch Top Chef last week?
I did. WHAT THE FUCK? Who the fuck WERE those people? Every week, Top Chef goes out of its way to find people BLATANTLY UNWORTHY of experiencing kickass food. This week, they had to cook dinner for a bunch of rich Dallas cunts and the golf course blobs they call husbands. And they listed out all these INSANE conditions for the meal. One lady didn't like cilantro. One didn't eat meat. One didn't like spicy food. "Hey I know! Let's cook for rich cunts who don't like food!" Fuck you, Top Chef. Then they parade the chefs into these assholes' houses and it's obvious that these people either made money by A.) ripping someone off or B.) inheriting it. Kogod explains: "It's all old money. Nobody in those homes have done anything useful for at least two generations. Most of them probably went to SMU." I hate them. Those people occupy the very top rung of Most Hateable Americans: Inexplicably Rich Texas Fuckheads Who Have Deluded Themselves Into Thinking They're Somehow Elegant. I wish we could occupy their living rooms and take a shit on the divan.
HALFTIME!
BG:
What if someday they find a Hitler/Eva Braun sex tape from the 1930s? Would it be wrong to masturbate to a Hitler sex tape?
Not if you're Easterbrook, it wouldn't.
Zack:
I'm a born and raised Michigan fan in my first semester at Michigan State. I have season tickets, I've learned the fight song, whatever. For how long is it acceptable to root for Michigan?
Oof. Listen, you and I know that, deep in your heart, you're probably always gonna root for Michigan and not Michigan State. That's just how fan love works. It's an inherent thing, and you can't ever really shake it (This is why every fan that calls into a talk radio station to say they're "done" with their team is a fucking liar. They all come back). HOWEVAH, you're at State now. And if you want to get laid and have friends and all that, I'd strongly advise you to shed all external trappings of your Michigan fandom and spend the next four years UNDERCOVER as a diehard Spartan fan. You'll be much happier. In fact, you may even have fun pretending to root for the other side. You can be a mole. A double agent. You could attend games and tailgate parties and then set up a blog that cruelly mocks everything you saw or heard. And if you get in too deep and find yourself actually cheering internally for the Spartans, I think you'll be okay. It's not Deep Cover and Jeff Goldblum isn't gonna all gangsta on you. If the conversion happens naturally, there's no need to fight it. By the way, as someone who went to Michigan for a semester, trust me: You're at the more fun school. You'll be just fine.
Jon:
I recently got a sales job with a computer company. Today we had a meeting and during the course of this meeting, the lady doing the explaining used the word "dongle." It was even shown on the PowerPoint. Fortunately I was able to keep emotions in check and proceed with the meeting like a responsible adult.

Apparently, a dongle is a piece of equipment that plugs into a computer, but how is it possible that a combination of "dong" and "dangle" becomes an accepted computer term? Who gets the final say on these decisions? I feel like typing the word dongle into Google Search a year ago would end up getting you fired. I also imagine there is now some sort of secret high stakes super-CEO game in which the race is on to one-up the dongle guy. It's an exciting time to be an American.
When you ask Google to define "Dongle," you get "A device that is connected to a computer to allow access to wireless broadband or use of protected software." So I guess everyone using that little portable wireless modem on the train is really dongling the joint up. The term was clearly invented by an IT guy who spends all of his time on 4Chan.
CEO: What do we call our new IT product?
IT GUY: Oh, it's a dongle. (snickers) The original program used to write the language for it was known as the Digital Online Navigation Goto Lexicon, or DONGL. So we call it a dongle.
CEO: Really?
IT GUY: Oh, yes. Dongles are HUGE these days.
From now on, I'm using that word whenever possible. "Oop. Looks like you didn't plug in your dongle. Just left it hanging there, limp. Pretty pathetic way to handle a dongle, kid."
Jared:
Would you rather never be able to masturbate again or...every time you masturbate you scream "I'M MASTURBATING!" at the top of your lungs?
You mean, you don't do the latter already? I do. Anyway, every guy would take the second option, and then build a soundproof bathroom in his home where he can go scream and fap to his heart's content. Why, with a soundproof bathroom, you could do MORE than scream. Ever talk dirty to yourself? Never gets old. "I'd fuck me SO HARD." I was at a hotel called the Iron Horse last week and took to calling myself the "Iron Horse" while alone and nude. It was a blast. STEEL STALLION FTW.
Justin:
I found this little gem among my Reese's Pieces.
Candy nipples! They've been a long time coming.
Chase:
Which would you rather do, blow a guy or omglet him fuck you in the ass? I think it is a lot less gay to blow a guy but other people say that is more gay because you are actively doing it to him. What say you?
Well now, let's not judge this purely based on which is "more gay," because that would totally make you HOMPHOBECESS. The obvious answer here is blowing a guy, not because it's more gay or anything like that (there's a penis inside your body either way, gang). The reason you pick blowing the guy every time is because there's nowhere near as much of a risk of injury. You know how guys are. They build up a head of steam and they want to go FASTER DEEPER HARDER GRRRRRRR BULLSEX. I don't want any part of that freight train in virgin territory. The tearing could end up being SIGNIFICANT, not to mention the potential for STDs. No, thank you. One blowjob, coming right up.
The only reason you'd pick getting your fudge packed is because it might alarm you to blow a guy and discover that you're GOOD at it. If you're an insecure heterosexual such as myself, that's not information you want disclosed. Also, Chase here didn't ask if the guy got to skeet all over my hair at the end. GAME CHANGER.
Captain Industry:
I work in a well-known Federal building. A week ago I walked into the men's room at the same time as a political appointee, whom might I add, doesn't know me from Adam. As we sidled up to urinals 1 and 3, respectively, he unzipped his pants and said at normal volume, "It's...Showtime!". I had to replay what I had just heard in my head two or three times to make sure I heard it correctly. I was sure of it when he began urinating and released a bassoon-eque fart simultaneously. It was, indeed, showtime.

What would possess a grown man to excitedly announce his bathroom visits to strangers like he's introducing the starting lineup of the '96 Bulls? It's strictly a power move, right?
Yes, but an AWESOME power move. I don't have the balls to do that in front of a complete stranger. I'm oddly impressed by this man's nerve. I'm almost certain that I would look at his dick after he said it, just to see if little purple sparks shot out of it or something. It made me think of other things you could say just before pissing and farting at the urinal in front of a total stranger:
• "This one's for Chief."
• "I want a good, clean fight."
• "Here comes Mongo!"
• "Please open your mystery baskets."
• (scat sings Superman theme song)
David:
Keep it classy, Hard Rock Cafe Denver.
OMG! Finally, we're able to complete the trio with Anita Blonde and Anita Dark!
Joel:
It might be hard to tell from the picture, but that is a corvette parked down the middle of two spaces. This isn't a one-time occurrence. This guy does this every day in the garage outside my office to protect this testament to his small penis from scratches. He doesn't even park it in some far away corner of the parking lot. He parks about 5 spots down from the elevator. Occasionally, I pull in (like in this picture) and there's no one in the spot to the left of his double park job and I'm faced with a dilemma.

19-year-old me wouldn't have thought twice. I would have pulled in about 2 inches from his door just to screw with the guy. Unfortunately, I'm now 31 and I'm more worried about confrontation/losing my job for causing a fight in the parking garage and then bouncing both my student loan and mortgage checks. It was fun to be young, poor and fearless and getting older is terrible. Should I ignore my job security and screw with the guy?
Couldn't you alert security to his illegal park job? That's what I'd do. I'd rat the fucker out to security, see if it gets his ass a ticket, and see if any good comes of it. And if nothing did, I'd start printing out dirty messages on my work printer and tape them to his back windshield. I LIKE TO BANG FRESH YOUNG BOYS would do the trick. This fucker more than earned it. Be sure to use gloves when handling your slanderous printout!
Time for your email of the week:
Matt:
A couple weeks ago I'm getting ready to leave for a weekend in Vermont and I need to grab a few items from my bathroom. As soon as I open the door a fucking bat flys right towards me. I basically shit, pissed and had a heart attack all at once. I didn't even know I was afraid of bats since I had never had a close encounter with one but apparently I am mortified by them. So the little fucker is now flying back and forth from my bathroom down my stairwell and I am cowering behind my bedroom door trying to figure out how I am going to get out of this terrible predicament. It should be noted that my girlfriend and her female friend are downstairs and they heard me scream like one of Sanduskys shower mates and my manhood is now on the line.

I consider waiting for the filthy bloodsucking vermon to fly in bathroom again and slam the door behind him but the thought of him shitting all over my bathroom and still being there when I got home, forcing me to relive this nightmare, made this option impossible. I looked around my room and for a weapon when I fixed my eyes on one of those big plastic storage bins that I have in the corner. I popped the lid off, observed his flight pattern a few more times, then knocked that fucker outta the air like I was Hank Aaron on HGH (I actually missed on the first swing...oh no now he's pissed!). The combination of the adrenaline from being scared shitless as well as the pride from saving the three of us from potential rabies/vampirism was absolutely euphoric. I told every person I knew and several that I didn't about how I had saved our lives. I also realized that since I've never been hunting, this was the biggest thing I'd ever killed even though it was about the size of a mouse with freaky latex looking wings.
This man is a HERO.