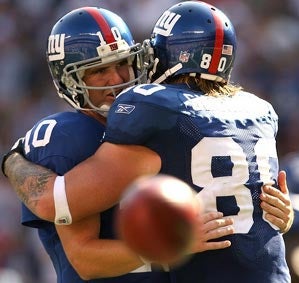 We have to thank ESPN today. It's an awfully active sports night tonight, with two League Championship games, including one that could secure one half of the World Series, and, just to make matters easier, they've provided us with an incredibly dull Monday Night game.
Sure, we suppose you could track this ongoing "resurgence" of the New York Giants, but that's hardly inspirational. We suspect the majority of the coverage tonight is, once again, going to focus on Michael Vick, and hey, whatever averts our eyes from Joey Harrington.
We're told Jimmy Kimmel is popping by the booth tonight. The game will need all the life it can get, not that we'll particularly be watching.
Five Questions With The Falcoholic [Big Blue View]