PHILADELPHIA—I'm standing in the middle of a giant chain sports bar. It is mobbed—3,500 people showed up to the Sixers lottery party, per organizers. But it feels like mass.
I went to 12 years of Catholic school. I was an altar boy. And, as I stand in the middle of this sports bar drinking a Shirley Temple, party organizer and Rights to Ricky Sanchez podcast co-host Spike Eskin sounds like he's reading the intercessions.
"We are here to honor a man who had one part courage and two parts patience," Eskin reads to the crowd. The last part of the sentence is repeated back by most of the congregation. Eskin continues: "Now what I'm going to do is we're going to read off the reasons we're honoring Sam Hinkie. And after I read them off, you're going to chant, 'Long live the process.'"
"He traded for and drafted Nerlens Noel."
"Long live the process!"
"He drafted Dario Šarić."
"Long live the process."
It went on. Hinkie was praised for drafting Joel Embiid, for signing T.J. McConnell, for signing Robert Covington to a four-year, $4 million deal, for getting a 2019 first-round pick, the rights to swap picks, and Nik Stauskas in a trade with the Kings where the Sixers gave up the rights to two Euro guys taken in the second round and, of course, for trading "Michael Carter-Fucking-Williams" for a first-round pick. (That MCW was a Sam Hinkie pick in the first place went unsaid.)
G/O Media may get a commission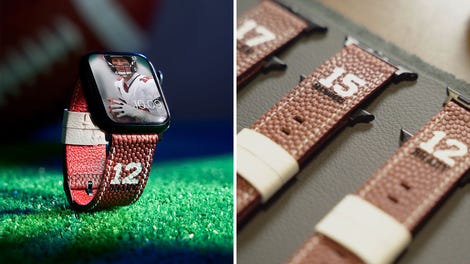 Official NFL PRODUCTS
Official NFL Apple Watch Bands
After the bizarro Prayer of the Faithful ended, a banner was raised to the rafters of Xfinity Live! (This house of worship has an exclamation point.) It had a photo of Sam Hinkie's head and the dates of his hiring and the trade of Nerlens Noel. Hinkie, the former Sixers GM who had a plan for everything except how to keep his job, is now immortalized in the rafters of the bar where young Philly area residents go to get drunk and hook up on weekends. At one point, Eskin called Hinkie "the greatest general manager this city has ever seen."
And I can't help wondering: Is this all a bit?
I am a Sixers fan, and I doubt the process.

I was on board at first, I guess. Since Allen Iverson left the team hadn't done much beyond a fluky first-round win as an eight seed in 2012. Sam Hinkie seemed like a good choice for GM. I figured he'd do a good job. But as the losses piled up and most of the players he acquired didn't amount to much, I checked out. I no longer go to several games a season. My mom and I don't go to the season opener anymore, something we did pretty much every year in the '90s and 2000s. Sam Hinkie is responsible for ending one of the favorite activities I did with my mom!
Watching basketball is supposed to be fun. There is a long-term plan in the Sixers rebuild, and maybe it will still work out, but the Sixers have been fun for exactly one month—January of this year, when they went 10-5—in the last four years. Nothing in those last four years has been as fun as that fluky first-round win in 2012. I remember putting on a Sixers shirt, watching as dozens of runners shouted "Go Sixers!" as I stood along the Broad Street Run, then taking the subway down to the stadium to see the Sixers take a 3-1 series lead against the top-seeded Bulls. I had a great time. So did my mom. But ask a Hinkie deacon about that playoff series and it's deemed worthless because the Sixers had no shot at winning a championship that year. So fucking what. This is Philadelphia, a city where its sports teams have won two championships in my lifetime, and one of those was when I was four months old. The 2012 Sixers were not great, but they were certainly better than any of Sam Hinkie's Sixers teams. Any creed that declares the process a good thing, no matter the outcome, must necessarily deny that sports ought to be entertaining.
I'm still a Sixers fan, but I've found better things to do with my time. I watch more Big 5 basketball. I watch more pro wrestling. I've gotten into synthwave. I get stoned and go look at art. I stare at my phone pointlessly. All of it is more interesting than the Sixers have been the last few seasons.
Others feel differently, and that's fine. We're all into different things. A man who spent five hours at a Ring of Honor taping on Sunday night cannot really mock the people who are crying in celebration because the Sixers moved up two spots in the draft.
But, still, it confuses me. Why haven't these people checked out? I went to the Sam Hinkie memorial lottery party—organized by the Rights to Ricky Sanchez podcast, a Sixers-themed 'cast hosted by Spike Eskin (the PD of 94 WIP, Philly's original sports talk radio station) and Michael Levin (a TV writer)—more out of curiosity than straight fandom.
It was fun. Of course it was: It was a party at a bar. I saw a bunch of people I knew. I even got a photo taken with Spike Eskin, his wife Valerie, and their adopted stray dog, Rebel. (It cost $5, with money going to the Animal Relief Foundation Aruba. That, plus another $5 photo op with a cardboard cutout of Vlade Divac, raised an impressive $6,000 for ARF and the two other charities, per Eskin.) I watched a couple get engaged. I saw fans give a standing ovation to my old Philadelphia magazine colleague Derek Bodner, who has managed to harness the Hinkie fandom into the ability to report on the team for his own site, full-time. The loyalists call him "Godner."
I talked to a lot of people. I asked why they were so into Sam Hinkie. A few people were angry I even asked. Saying I was from Deadspin didn't help, I suppose; when I took the job one friend told me he'd never be reading my work again because Deadspin had been mean to Sam Hinkie in the past. But with anger or patience, the explanation was basically: No one else had the guts to do this kind of tear-down and rebuild, and it's going to lead to a Sixers dynasty. Yeah, OK, I guess. But what would have to happen to make people start to doubt?
When the NBA announced the Knicks were picking eighth in the draft—thereby meaning the Kings had moved up into the top 3, which meant the Sixers were in the top 3—the place went as wild as if the Sixers had won the title on a Timothé Luwawu-Cabarrot buzzer-beater. Suddenly there was beer on my camera lens.
Thanks to Sam Hinkie, the Sixers moved up two spots. It was fun to be there with a bunch of Hinkie acolytes when that happened. Hopefully it'll work out for the Sixers.
But it was one line Spike Eskin said at the end of the night that stuck with me. "This is what it looks like when the smartest people are all in one room," he said to the assembled crowd. "This is the smartest room in America."
Perhaps this is another podcast bit. But I think a lot of people in that room really do think they're smarter than everyone else. They think that Sam Hinkie's plan is going to work out and they're going to be able to brag about it. Cult or church, I guess that's the definition of faith. But here, at least, someone's going to get to say I told you so in this world instead of the next.