It was long.

WrestleMania 34 had a shocking finish in the main event. The best match on the card had two retired wrestlers in their late 40s, a non-wrestler, and a woman making her pro wrestling debut. It had a 10-year-old pulled out of the crowd to win the tag team titles. It had a match with two of the best wrestlers in the world in which the post-match angle was more interesting. It had several squash matches, the shortest of which featured John Cena as the jobber. It had two pre-show battle royals; at one point WWE cut away from the women's match to show action figures of male wrestlers fighting. It had a shocking end to a long winning streak. It had Daniel Bryan's first match in almost three years. The main event turned into a bloodbath, and the guy WWE has been setting up for a big title reign for four WrestleManias now… lost.
But mostly, it was just long.
For all the things that happened during WrestleMania, none are quite as memorable as its length. Counting the pre-show, which started at 5 p.m. eastern, the event lasted just over seven hours. Even if you didn't watch the pre-show, it was still five hours. The party where I watched WrestleMania dwindled from 12 guests to just three by the time it ended.
Was it good? Of course it was good. It was WrestleMania! Even the worst WrestleManias at least have a bit of spectacle to them, and this was not nearly the worst WrestleMania. All of the matches at this WrestleMania had significant builds, there was a decent amount of star power, and the wrestling was all decent enough. But it was, perhaps inevitably, a slog to get through. It's great that WWE tries to get all the wrestlers onto WrestleMania. But WrestleMania 34 was too busy. It was, as I believe I mentioned earlier, too long. I love to watch wrestling—I went to seven wrestling shows in five days in January—and I was burnt out by it.
The best part of the show, amazingly enough, was the Ronda Rousey/Kurt Angle vs. Triple H/Stephanie McMahon mixed tag-team match. Stephanie got too much offense on Rousey—a non-wrestler shouldn't be beating up "the baddest woman on the planet"—but otherwise it was great. Rousey looked every bit a pro wrestler in her first match; she even did a so-so hurricanrana. But what made this match work, mostly, was it was scripted better than any other match on the show. It told a simple story—Stephanie trying to avoid Rousey—and told it pretty well.
G/O Media may get a commission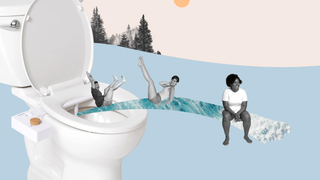 17% off
Tushy 3.0 Warm Water Spa Bidet Attachment
The most ridiculous moment of the night was also one of the best. Braun Strowman, needing a partner to wrestle Cesaro and Sheamus for the Raw tag team titles, picked a 10-year-old boy named Nicholas out of the stands as his tag team partner. And they won the match! Yes, a "random" little kid now holds a title in WWE. (Was this kid even drug tested? Does he have a wrestling license?! We need Jack Tunney to come out and make a ruling on this.)
Strowman has gotten over by basically being the straight man in a series of comedy matches and spots. He tipped over an ambulance. He broke the ring. He destroyed the backstage of the Raw set. He flipped over a semi truck. He wrecked the set again. And now he made a random little kid a WWE tag team champion. Is he going to pull someone out of the stands for all his title defenses? There are a bunch of places WWE can go with this and while all of it is incredibly silly, it works. Braun Strowman, comedy monster, has been one of the best acts in wrestling for a while now.
A.J. Styles, for his part, is WWE's best wrestler. Shinsuke Nakamura is beloved for his work in Japan, even if the people who follow such things even more obsessively than I do tend to believe he's slumming it in WWE. Styles and Nakamura had a match, and it naturally featured two or three of the most clever wrestling spots on the card. The ending spot, where Styles reversed Nakamura's running knee into his Styles Clash finisher, was incredible—the best wrestling moment of the show.
But, because it happened six hours into the show, the match still came out flat. The post-match angle, in which Nakamura hit Styles with a low blow, generated the most interest. Nakamura/Styles should be main-eventing a show. Instead, on Sunday night, it was just another match on a packed card.
John Cena was in the front row early on in the show. Suddenly, he rushed to the back. He eventually came out, had a segment with Elias, and—when he was about to return to the back—the Undertaker finally returned. If you're a John Cena hater who thinks he doesn't deserve the success he's had, this was a match for you. Cena played the jobber and lost in two minutes. It was weird. Also oddly satisfying, I guess, but it was strange.
There is a lot more to go over. Charlotte ended Asuka's streak. Nia Jax ended Alexa Bliss' title reign. Seth Rollins won the Intercontinental title. Jinder Mahal won the U.S. title. The Bludgeon Brothers beat the Usos and the New Day for the Smackdown tag titles. Daniel Bryan returned and it seemed, in some ways, like an afterthought. So much was going on!
For a while, main event followed the same script as WrestleMania 31's main event. That match, which was done better, ended when Seth Rollins ran in, cashed in his Money in the Bank briefcase and won the title. Three years later, he got another shot at Lesnar. Roman Reigns has been set up to be WWE's next big star for years now, and this was his fourth straight WrestleMania main event. Now he got a chance at a do-over. In this one, Reigns kept kicking out of everything Brock Lesnar threw at him. Lesnar bloodied him and it looked really cool. And then, just when everyone thought it was time for the big comeback and Reigns' big win... he lost. Lesnar's fifth F-5 finishing move ended the match.
It seemed like a troll job. Reigns, who WWE has been setting up as their main guy for years despite boos from large segments of the crowd, lost in his big match. WWE finally gave fans what they wanted. And people hated it! To be fair, it was unsatisfying. I was ready to watch Reigns finally beat Lesnar, to at least end this storyline. I was not alone in that. It didn't happen. Inexplicably, after losing Reigns got his music played and got a sad walk to the back as the show ended. It made no sense.
But, mostly, it was just over. It's hard to know how fans would've responded to the outcome in another context, but in this one it just felt like one more thing at the end of a long night.