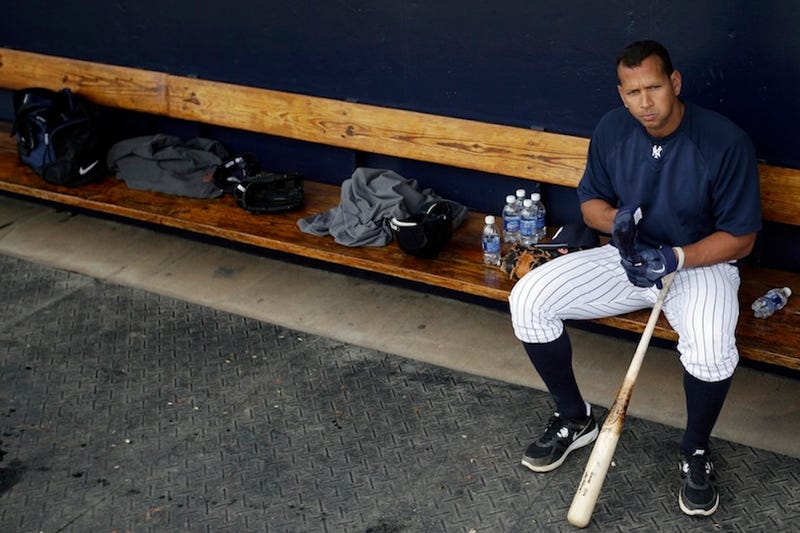 This latest A-Rod Thing comes to us via the New York Post, which reports that A-Rod brought girlfriend Torrie Wilson and niece Michelle Silva to a Manhattan boutique last month, gave them free rein of his black AmEx card, and "joked around with the saleswomen while the girls shopped," according to a store rep. Silva, 20, is said to have rung up most of the charges, which came to $17,604. More from the Post:
But when Silva got home, we're told her mom became concerned that her wealthy brother had spoiled her daughter with expensive goods, and told Silva to return the clothes.

Rodriguez's people then called the store repeatedly asking to return the clothes, but were informed Blue & Cream doesn't issue refunds, only store credit, a rep for the boutique told us.
That's when Silva sent the store an email, warning that Uncle A-Rod would take "further measures" if the store refused to issue the refund. To which the Post adds:
This weekend, Blue & Cream was notified that Rodriguez is disputing the charges. "It's ridiculous. Completely ridiculous," said a store rep. "We have security tapes and coverage of him at the checkout counter. We're completely not in the wrong."
A-Rod has buyer's remorse? Why, he's Just Like Us!
Photo via AP
A-Rod cries foul on store fee [New York Post]