The NFL's disciplinary process for on-field behavior made the news this week after Pacman Jones was fined but not suspended for what sure looked like criminal assault on Sunday. Everyone predicted a suspension—this is, after all, the NFL, where evidently 90 percent (or more) of the league's PR strategy involves doling out suspensions—and so there was some confusion when Jones was hit with a relatively small-seeming $35,000 fine (which he is now appealing).

Believe it or not, this is a by-God example of the NFL's disciplinary process working in a way that makes actual sense. In fact, the collectively-bargained process for disciplining on-field transgressions serves as a handy contrast to the absurd, chaotic way off-field and personal conduct transgressions are handled by sentient disclaimer on a bottle of penis pills Roger Goodell. The NFL's operations manual provides a fairly comprehensive schedule of infractions and fines. Players are provided a written explanation and a video of the infraction when disciplined. Appeals are randomly assigned to one of two appeals officers, jointly appointed by the NFL and the NFLPA.
Article 46 Section 1(d) of the CBA provides that players may appeal on several grounds, including that a fine higher than the minimum provided in the schedule of infractions is excessive or excessively burdensome. There are a few specific infractions in the Player Safety Rules and/or Flagrant Personal Foul section of the Operations manual that might describe the NFL's interpretation of Jones's specific act, but, whatever the specific infraction, judging by the minimums described, it appears the NFL felt this incident warranted a somewhat higher fine amount. Since this was determined by executives in the NFL's Operations department and not Roger Goodell, Jones has not been suspended indefinitely, docked a million billion dollars in salary, and sent to live in a colony on the moon (later reduced to two games). Jones is appealing the fine, as is his right under the CBA. The appeal process will be credible, because it will follow a protocol negotiated for fairness, and, notably, will not be presided over by the very person who made the initial ruling.
What I'm saying is the NFL might be the only organization on Earth in which a person being fined and not suspended for violently bashing a dude's head in frustration can be seen as a step in the right direction. A welcome breath of fresh air, even.
Here's some stuff you can watch if you just feel like ignoring the whole damn thing:
Other Sports
12:15 p.m. — beIN Sports Español — La Liga Soccer: Villareal vs. Athletic Bilbao
Villareal have put up six goals over their last two matches, both victories, while Bilbao are coming off their first win of the campaign, a convincing one over Getafe.
G/O Media may get a commission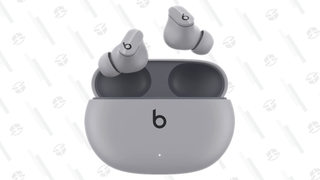 1 p.m. — ESPN 2 — FIBA Eurobasket Final: Lithuania vs. Spain
Jonas Valenciunas of the Raptors has been pretty great for Lithuania, but they wouldn't be in the final without the scorching-hot shooting of Euro player Jonas Maciulis, who's poured in a ridiculous 59 percent of his threes in the tournament and leads Lithuania in defensive rebounding. Spain are, of course, led in nearly everything (including three-point percentage) by Pau Gasol, who is the best and is playing out of his mind. This should be fun.
1 p.m. — ESPN — WNBA Eastern Conference Semifinal (Game 2): Liberty @ Mystics
These teams played a double overtime thriller in Game 1, with the Mystics emerging with the three-point victory.
1 p.m. — twitch — eSports: 2015 HWC - America Championship
Bear with me, here: the game is called Heroes of the Storm; HWC is the world championship series for this particular game; this event is the American leg of this series; two teams from this event will qualify for the main event, where they will enter a pool with teams from Korea, China, Europe, and Taiwan; the winning team of the America Championship will also take home the $40,000 grand prize. These matches are viewable live on twitch.tv, and I will admit here that I used to stream live competitive Left 4 Dead tournaments when I was supposed to be working. What I'm saying is, this shit can be fun if you know what you're watching.
Also, a hat-tip to Chris Kluwe for suggesting eSports for these posts. He is a good nerd.
2 p.m. — NBC — PGA Golf: BMW Championship Final Round
From Conway Farms Golf Club in Lake Forest, Illinois. Jason Day of Australia has a commanding six shot lead on the field. That is the most I have known about a single golf event in at least five years.
2 p.m. — TBS — Baseball: Cardinals @ Cubs
So, these teams like each other less than ever these days. And there's still something at stake, which is cool. There could be fireworks in this one.
2:15 p.m. — beIN Sports — La Liga Soccer: Barcelona vs. Levante
Levante are butt, Barcelona could use a dominant win after underwhelming performances in their first three matches. Could be an entertaining bloodbath.
2:30 p.m. — beIN Sports Connect — La Liga Soccer: Las Palmas vs. Raya Vallecano
These sides are crap. I believe Connect is the streaming site for beIN Sports. Check it out. For now it looks to be where beIN Sports dumps mid-table or lower matches, but if you're particularly desperate for Spanish soccer, this might be an option. It appears to be free? I think?
2:45 p.m. — beIN Sports Connect — Serie A Soccer: Napoli vs. Lazio
Similarly, if you're hard up for Italian soccer, here's a match of virtually no consequence, if you're a neutral (you are).
3 p.m. — ESPN — WNBA Western Conference Semifinal (Game 2): Sparks @ Lynx
Game 1 of this semifinal series was also tight, with the home team pulling out a two-point win.
5 p.m. — ESPN — MLS Soccer: Portland Timbers vs. New York Red Bulls
New York's goal differential (plus-15) towers over the rest of the Eastern Conference, while Portland has one of the more anemic attacks in MLS. This could be a fun rout.
7 p.m. — FOX Sports 1 — MLS Soccer: Houston Dynamo vs. Philadelphia Union
These are a couple of lousy MLS teams, but they both concede a lot of goals, and have semi-respectable attacks. There should be some goals, is what I'm saying.
8 p.m. — ESPN — Baseball: Yankees @ Mets
The Yankees jumped all over Noah Syndergaard Saturday afternoon and evened the series with a shutout win. They need every win they can get to keep any hope of catching the Blue Jays in the AL East. Tonight's matchup looks like CC Sabathia versus Matt Harvey (but stay tuned on this), so it could be a doozy.
TV Reruns
Noon — TV Land — The Golden Girls
This will take you through the early games, but only if you like things that are good. If you dislike things that are good, you should definitely not watch this show. Fair warning.
1 p.m. — USA — Law & Order: Special Victims Unit
Good old SVU with the day-long marathon of overdone, earnest-as-hell procedural drama.
1 p.m. — We TV — Roseanne
Cue half a dozen dudebro dinguses saying "lol Roseanne wut" down in the comments. It's a funny show! Things that are funny are good.
1 p.m. — VH-1 Classic — Coach
Hey! Not bad! Jerry Van Dyke and Bill Fagerbakke played memorably adorable jock stereotypes, and Craig T. Nelson is genuinely good to watch. This little marathon will get you most of the way through the early games.
6 p.m. — Spike TV — Bar Rescue
This show, which may or may not be an infomercial as far as I know, will get you all the way through the primetime game tonight.
6:54 p.m. — AMC — Fear of the Walking Dead
Couple of reruns, and then the premiere of the new episode at just after 10 p.m.
8 p.m. — FXX — The Simpsons
Episodes tonight include a bunch of depressing later-season garbage. You should have stopped watching new episodes of The Simpsons 20 years ago.
Movies
11 a.m. — Spike TV — The Shawshank Redemption
Ha ha! Yes! We have entered the part of the year when networks hand over whole days of programming to this goddamn movie! Spike said "to hell with it" and went with an all-Shawshank marathon through 6 p.m. Quitters!
11:30 p.m. — pivot — Michael Clayton
This is such a terrific movie. A friend of mine pointed out to me that movies like this, that are pitched at adults and deal with themes and emotions on an entirely adult wavelength, don't come along very often. He was right! Anyway, it's a cool-ass movie.
Noon — ion Television — Backdraft
Billy Baldwin is just so dreadful in this and every other role. You wouldn't think there'd be a Baldwin who's worse than Stephen, but here's Billy, positioned as the handsomest of the non-Alec brothers, stinking out the joint in an otherwise well-acted action drama.
Noon — abc Family — Pretty Woman
OK, abc Family. A movie about a cynical corporate raider who hires a prostitute to escort him to upper-crust functions will be perfect for your target audience. I swear, the non-porn station most likely to be showing some shit you wouldn't want your young kids watching is abc Family.
1 p.m. — Esquire — Caddyshack
Holds up a little bit less each year, especially Chevy Chase's scenes, but the gold stuff is still gold.
1:30 p.m. — AMC — Air Force One
I remember reading somewhere that the "Get off my plane!" line was a fill-in on the original script, meant to be replaced by something better during shooting. OK, good talk.
3 p.m. — Reelz — Top Gun
Reelz has evidently decided to dedicate this afternoon to Tom Cruise movies, except they apparently have only heard of two Tom Cruise movies, and so they're re-airing Top Gun again at 8 p.m.
3 p.m. — VH-1 Classic — Stand By Me
Leeches—which I have still never seen in the wild—scared the shit out of me when I was a kid, because of this damn movie.
3:30 p.m. — SyFy — Skyfall
Why is this movie so joyless? What happened to all the dark humor and sexy charm of Casino Royale? These Daniel Craig Bond flicks closely (and disappointingly) follow the arc of the Bourne movies, shifting from winking fun to dour joylessness over the course of three movies. I can only assume Spectre will take place entirely inside a pre-Victorian mausoleum and will consist of Bond reading directly from The Times obituaries, and nothing else.
3:30 p.m. — TNT — Cliffhanger
Pretty good! Actually not bad at all. The villains are cartoonish, but compellingly so, and this is a movie that knew what to do with Sylvester Stallone's physicality and his easy, natural on-screen vulnerability. It winds up working out! Also, I said this last year, but it's worth mentioning again: the opening sequence is unbelievably terrifying.
4 p.m. — Sundance — Fight Club
One of very few roles in which Helena Bonham Carter isn't just unbearably fucking annoying.
5:15 p.m. — Comedy Central — The 40-Year-Old Virgin
Steve Carrell is very sweet and funny here, but it's really the many excellent side characters that elevate this movie.
5:30 p.m. — Reelz — Risky Business
This is the other Tom Cruise movie available on Reelz. I'm not so wild about how Risky Business is about this little dipshit showing his business acumen via, you know, the business acumen of his sex-worker girlfriend. Like, what the fuck did he do besides have an empty house? It was Rebecca DeMornay's character who did all the moving and shaking (also the [wink wink] moving and shaking [nudge nudge]). What a load of bull.
6:30 p.m. — SyFy — Back to the Future
Heck yeah. I still manage to crack up when Marty goes bananas on the guitar during the school dance. What a clown that McFly is. You know, it's no wonder Biff had to tune that guy up a few times. Biff is the real hero.
7 p.m. — WGN — A League of Their Own
Impossible to turn off once it's on. This movie could not be improved except by replacing Laurie Petty.
7 p.m. — Sundance — Goodfellas
Joe Pesci won the Oscar for Best Supporting Actor for his role in Goodfellas, but Lorraine Bracco wasn't even nominated. Which is ridiculous! She's terrific as Karen Hill, and her early scenes are some of the most fun sequences of the whole movie.
Most of the country is still enjoying spectacular late-summer/early autumn weather. We are also approaching the peak of apple season, and most of the wine growing regions in the US are in some stage of picking one grape or another. Get out into the world, eh? Take a hike, as they say.