Michael Sam kissing his boyfriend after being drafted into the NFL will be long remembered as an iconic moment in sports history. Thanks to Sports Illustrated's Richard Deitsch, we now know that the moment very nearly never made it to air.
Writing for The MMQB, Deitsch got a behind-the-scenes look at ESPN's draft broadcast, and discovered that an ill-timed thunderstorm knocked out ESPN's feed of the camera they had on Sam right before he was selected by the Rams:
"In our production truck outside of Radio City, we had a camera on Michael all day Saturday from noon to after 6:30 p.m.," [producer Seth] Markman explains. "I watched him on his couch. I watched him walk around. I watched all the people who were with him all day.

"So it's now a little past 6:30 p.m. and all of a sudden I look up and the feed from where Michael is disappears. Gone. Totally black. And there are only a few picks left in the draft. We're in the truck in New York basically freaking out. It turns out Bristol [ESPN's headquarters] had thunderstorms that had come through and knocked our feed out. So I immediately call [executive producer of the ESPYs] Maura Mandt, who is onsite with Michael. I tell her, 'Maura, we lost the feed! We lost the feed!'"
Mandt and the camera man at the house in LaJolla, Calif., had to act quickly, uploading the footage to ESPN's studio in Bristol so that it could be sent to the producers in New York. This created an odd situation, as Markman didn't have time to review the footage before putting it on air:
"It was essentially live to us in the truck when we rolled it," Markman says. "The only thing I knew was that Maura described it as 'emotional video.' So we got in [host] Trey's Wingo's ear and told him basically, Here is the video, look at the monitor and describe it. To Trey's credit, he laid out [stopped talking], which was ultra-professional of him. So the tape is rolling, the moment with Michael is happening, and honestly, in our production truck out of everyone, there was only one person who asked 'Is this going too far?' We all thought: This is a great, emotional, historic moment. Let it go."
G/O Media may get a commission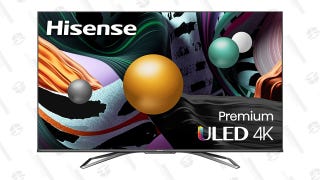 Save $350
Hisense ULED 65" Android 4K HDR Smart TV
In the end, this was a happy accident for ESPN. Sam's emotional reaction got the air time it deserved, and ESPN didn't have time to get cold feet about putting two men kissing on the air. With more time for handwringing and worrying about potential backlash, it may have been more than just that one person in the truck who wondered if ESPN was going too far.
[MMQB]