Aaron Rodgers did what Aaron Rodgers does best on Monday night, leading the Green Bay Packers to a brilliant comeback over the 49ers at Lambeau Field. But it didn't look like the quarterback was exactly destined for victory at first. When Niners kicker Robbie Gould hit a 46-yard field goal at the end of the first half to put his team up 24-20, C.J. Beathard was outplaying Rodgers in seemingly every way and dropping absolute dimes to his receivers.

It wasn't until Green Bay was down 30-23 with 3:08 left in the fourth quarter that one of the NFL's greatest comeback artists truly found his form. After driving his team to the 16-yard line, Rodgers threw one of the most perfect passes to Davante Adams near the corner of the end zone.
Joe Tessitore can sometimes overemphasize the impact of a play as a broadcaster, but he was right on the money with his level of excitement there. It's hard not to marvel at Rodgers's placement of that pass, which was mere inches away from the fingertips of Niners cornerback Greg Mabin, but exactly where Adams wanted it.
San Francisco still had just under two minutes left to get within field goal range and snatch an upset from Green Bay. But when Kyle Shanahan decided to go aggressive on the third play of the drive, Packers corner Kevin King was there in front of Marquise Goodwin to intercept Beathard's pass, and guarantee that another Rodgers game-winning drive was about to come. The guarantee only became stronger when an illegal contact call on Richard Sherman saved the Packers from a 4th-and-19, and gave them a fresh set of downs in the subsequent drive.
Even though he was initially slow to get up after getting hit on the previous play, the penalty seemed to reenergize Rodgers. The next play was a 21-yard rush, and three plays after that were all completions towards the player who he determined to be the weakest member of San Francisco's secondary: Maybin.
G/O Media may get a commission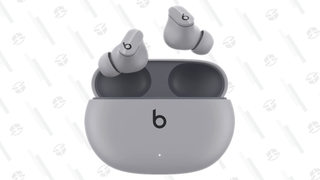 He moved Green Bay down 81 yards in the final 1:07 of regulation. That gave Mason Crosby a shot at redemption to hit the game-winning field goal after missing four attempts and a PAT last week.

Rodgers once again showed that he's able to take a victory from the jaws of defeat whenever he needs to, but not even he knows how much longer into the season the Packers can keep doing this. With the Rams and Patriots approaching as back-to-back opponents after the team's bye-week, he said in a post-game interview that the focus should be "rest and then we look at our schedule, and it gets really tough. We're going to find out what kind of team we are." But with a 14-year veteran who keeps racking up career-defining performances like these at the helm, the threshold for what kind of team the Packers can be is pretty damn high.