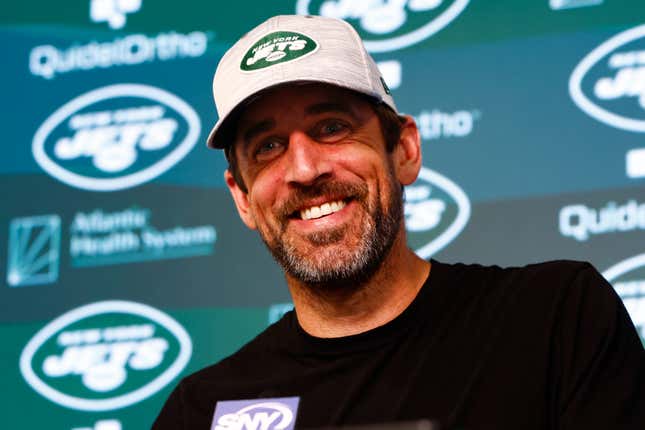 By the time we get to opening week of the 2023 NFL season, the New York Jets might be known affectionately as Green Bay East. That's what Aaron Rodgers is attempting to turn this franchise into by luring ex-Packers to the Big Apple forming a heavy layer of familiarity for the former MVP. Former Green Bay safety, Adrian Amos, is the latest to join the Jets, reuniting him with Rodgers and the others who have followed.

Will Aaron Rodgers stay in Green Bay or is he New York bound?
Rodgers was determined to get "his guys" to NYC with him, and he hasn't stopped. Before Amos, it was wide receivers Randall Cobb and Allen Lazard, then offensive lineman Billy Turner joined the crew. If there's any chance the Jets can figure out a way to acquire Davante Adams, you'd better believe Rodgers would be pushing that narrative until he speaks it into existence.
We've heard stories for years about how guys don't love playing with Rodgers, and while he probably isn't on everyone's Christmas card list, some guys obviously 'like' Aaron at minimum. So, A-Rod's biggest issue was with Green Bay. Not the city but the folks running that franchise inside the facility. That isn't some new revelation but all this movement of former Packers heading to the Jets because of Rodgers is a huge indicator.
Don't be surprised to see another former Packer or two sign up to play alongside Rodgers in New York this season. Rodgers has basically taken control of the Jets in ways the Packers never allowed. Although Packers management allowed him to walk around the facility unvaccinated a couple of years ago when everyone was supposed to be, that's a story for another time. All that matters to A-Rod is that he got his way and now runs the Jets. Any winning that occurs while Rodgers is on the Jets roster is a plus. Obviously, the goal was gaining complete control of an organization, and Rodgers has accomplished that feat.