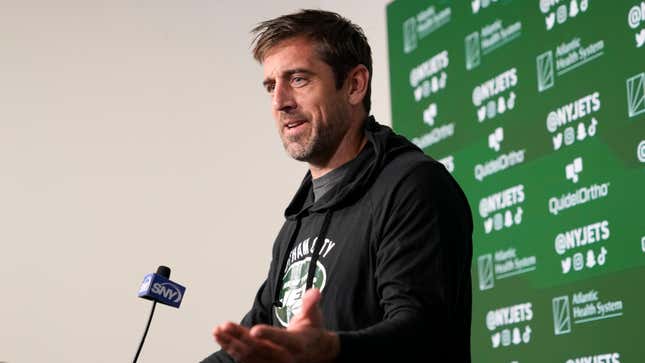 Aaron Rodgers' idea of the Garden State prior to being traded to the New York Jets was gleaned through MTV's Jersey Shore. The veteran QB called the trash reality hit "one of the greatest" shows, despite it being an embarrassment to us born-and-bred Jersey folk. (Hell, wasn't half the cast from New York?)
Aaron Rodgers on the brink of disaster | Trash Talkin' Tuesday
"Look, I'll be honest," Rodgers said at his post-OTA media availability. "The only Jersey I kinda knew about besides Teteboro was Jersey Shore.
"I was assured that was not a proper representation of this great state," the 39-year-old QB, who tweaked his right calf during practice, added.
That's a fact.
New Jersey is home to the first-ever college football game, and the birthplace of celebrities such as Frank Sinatra, Shaq, Joe Pesci, Bruce Springsteen, Whitney Houston, the guy who stuck his dick in the pie in American Pie, and more. And comedians Chris Rock and Tracy Morgan, as well as former New York Yankee CC Sabathia call Alpine, N.J. home.
Jersey has the best pizza and bagels — yeah, I said it — Taylor ham (not pork roll), beaches, malls — lots and lots of malls, diners — a fucking lot of those, too — and some great breweries. We say fresh mootz and gabagool.
As far as Teterboro goes, it's a tiny Bergen County town with a population of 61, according to 2020 US Census data. It's best known for its airport, which is operated by the Port Authority of NY and NJ, and where many VIPs fly their private jets into, avoiding the disaster that is Newark Airport and traveling amongst the plebes.
Aaron's thoughts on Jersey Shore
"That was the only lens I saw New Jersey through," Rodgers reiterated.
When he found out that tight end C.J. Uzomah never watched Jersey Shore, Ayahuasca Aaron teased him. "How could you not watch the show?" the signal-caller asked his teammate. "It was one of the greatest shows back when MTV actually had content on it."
Rodgers went on to say he's a fan of Snooki, JWoww, and the crew. He said he even attended a Pauly D DJ set in Las Vegas around 2011. Of all the weird things he's done — why you'd wanna see a D-list celebrity use a Macbook to play music is beyond me — that doesn't even make the list.