AC Milan have spent this decade in free fall. Despite being seven-time European champions and 18-time Italian champs, Milan haven't won Serie A since 2011, and have struggled for relevancy since Zlatan Ibrahimović left in 2012. In the past four seasons, Milan has finished between sixth and tenth—an unacceptable new normal for one of the biggest clubs in Italy.
But the April sale of the club was the end of an era. Gone was the controversial (to put it mildly) longtime owner Silvio Berlusconi, and in was a deep-pocketed new group led by Chinese businessman Li Yonghong. Immediately, the new ownership sought to drastically improve the club, and already this summer they've brought in 10 new players, with more potentially to come.
Admittedly, not every single one of these transfers is huge, but many of them are—certainly, this is more of a blockbuster summer than Milan have had in forever. Headlining the group is Leonardo Bonucci, a legendary center-back just exiting his prime and making the surprising transition from dominant Juventus to rebuilding Milan. He is the new face of AC Milan.
Joining Bonucci, among others, are Porto striker André Silva, right back Andrea Conti, Bayer Levkusen's free-kick wizard Hakan Çalhanoğlu, and Wolfsburg's left back Ricardo Rodriguez, all of whom are 24 years old or younger but have significant experience in top leagues. Milan is building for the future yet simultaneously constructing a brand-new win-now squad.
And, if reports are to be believed, they aren't done yet. Milan are also still supposedly looking for another young-yet-proven striker—most notably Torino's Andrea Belotti or, in what would be an even bigger move, Álvaro Morata. They're mainly battling with Chelsea on the market for these guys, but there are currently as many or more top strikers available than there are teams willing to pay top dollar. This Milan team will only get better.
G/O Media may get a commission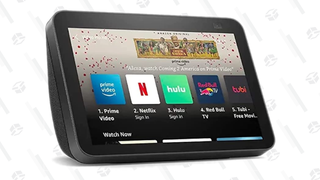 It's about time, too. Juventus have won the last six Serie A titles, and it's beginning to get boring. Respectable challenges from Roma and Napoli last season bode well for the future, and this all-new, all-different AC Milan squad immediately makes them title contenders, too. There's no guarantee that this group of players will mesh perfectly, or even that most of them will pan out with Milan. But rarely can a club win without money, and Milan suddenly have a hell of a lot of it.