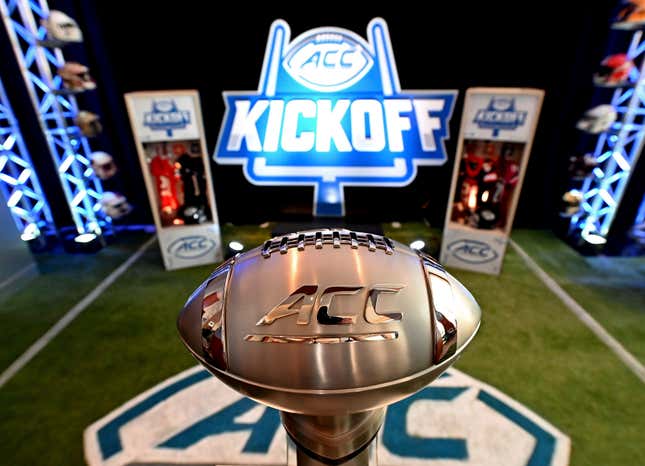 At first glance, the ACC leaning against adding Cal and Stanford is one of logic and tradition. Four brave institutions are standing tall, spitting in the face of realignment, and shouting "We're not for sale!" Then you look at who those four schools are — Florida State, Clemson, North Carolina, and NC State — and wonder why they would buck back at a move that would seemingly save the conference, or at the very least extend its lifespan.
Which NFL QB will be the first one benched? | Agree to Disagree
For the record, Stanford and Cal don't belong in the ACC anymore than Tottenham and Man United, but there's power in numbers, and the Big 12 gave themselves a buffer with Pac-12 castaways if another round of exits takes place. Without Stanford and Cal, the ACC is trapezing without a net, and my guess is FSU, Clemson, and North Carolina know that.
In order for the expansion to get approval, 12 of the 15 ACC members have to OK it. While I'm unsure what NC State's deal is, I have an inkling that the other universities might not be too unhappy if the conference disbands. Florida State has already been bitching about the revenue-sharing model, Clemson might as well be an SEC school, and North Carolina would be single for as long as any other smoke show following a breakup.
ACC conference commissioner Jim Phillips is high if he thinks Notre Dame is going to join a league whose current TV partner is the CW, so the Cardinal and Bears are the next best option. Eleven of the 15 universities are aware of this, and only a newborn would be naive enough to buy that the holdouts are doing so for honor, history, and tradition.
Unfortunately, it feels like only a matter of time before Clemson and Florida State leave for the "financial security" of the SEC, and then the Big Ten grabs North Carolina and Duke, and then, and then, and then, until we're writing another obituary.
A reminder to never trust NFL preseason
Green Bay Packers QB Jordan Love looked fluid in his first preseason action as the team's starter, completing 7 of 10 passes for 46 yards, and a TD.
On the other side of the spectrum, Baker Mayfield is in his fourth different uniform in three years, but had a better night. The Tampa Bay QB1 hopeful hit on 8 of his 9 passes for 63 yards, and a score.
It's like two ships passing in the night: One headed out on a new voyage, and the other halfway to the ocean floor.
Man City truly in midseason form in EPL season-opening win
Happy EPL season! The first goal, and game, of the 2023 campaign went as expected.
Erling Haaland started off his defense of the Premier League Golden Boot with a brace, Man City began its quest for a fifth-straight EPL title with a 3-0 win over Burnley, and just for good measure Kevin De Bruyne got hurt and is out a "few weeks."