The results of 2013 Baseball Hall of Fame voting will be announced on Wednesday, and this year represents a unique ballot. Steroid users, suspected steroid users, a cocaine user, a catcher, Jack Morris. Want a preview? Baseball Think Factory has compiled the votes from every writer that made their vote public (including two who aren't voting at all), and the results are only shocking if you somehow didn't read our headline.
The 2013 Hall Of Fame Ballot Collecting Gizmo is being updated daily, and as of now has 84 full ballots—nearly 15 percent of the total. That's a much larger sample size than election day exit polls, though it is self-selected. Here's the top 10, with 75 percent required for induction:
71.4 - Biggio
69.0 - Bagwell
65.5 - Piazza
63.1 - Raines
61.9 - J. Morris
46.4 - Clemens
46.4 - Bonds
39.1 - Schilling
39.1 - Trammell
35.7 - L. Smith
Nobody gets a plaque! (Except for three Veterans Committee selections, all of whom have been dead for at least 74 years.) We predicted this result, but it'd still be a shock to see Craig Biggio left out. He's a sportswriter's wet dream, atop a ballot without any sure things. But I suppose proximity to PED suspicion is damning enough these days.
G/O Media may get a commission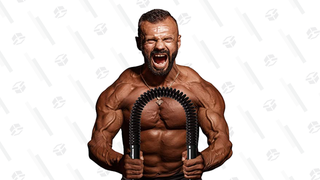 10% off
Zenooze Boa Power Twister
If you're curious about accuracy, exit polls proved remarkably prescient last year. Both BBTF's (scroll down to comment #10 to see their 2012 predictor) and a second ballot tracker had Barry Larkin as the only man in, both nailing his percentage in the high 80s. There are still plenty of uncounted ballots, but Craig Biggio is going to need a surge or Cooperstown will be kind of lonely this summer.
[BBTF]