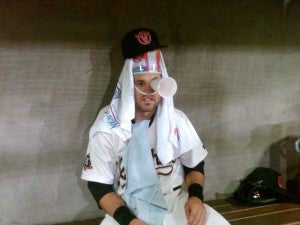 Adam Eaton is a 23-year-old outfielder in the Diamondbacks system, who's a long shot to break camp with the club. But sitting at his locker earlier this spring, he had a pile of checks dumped in his lap: more than $120,000 worth.
"Cody [Ransom]'s like, 'Those aren't yours,'" Eaton recalled. "I'm like, 'What do you mean they aren't mine? They're in my name.' He goes, 'That's the other Adam Eaton. Do you live there?' It had the address on the front. 'No.' I go, 'Do I have to give them back?' He's like, 'Yeah. You have to give them back.' I thought it over and I'm like, 'Yeah, I've got to give them back.'"
They were, of course, for the other Adam Eaton, a retired pitcher who last played in 2009. As a 10-year vet, the elder Eaton gets his cut of MLB licensing fees for video games, DVD sales, etc. As someone without a taste of the big leagues, the younger Eaton isn't even a member of the MLBPA yet. It's good to be a minor leaguer with the same name as a major leaguer. Unless you're Pete Rose Jr.
Eaton (OF) did end up returning the checks, so he'll have to content himself with the stack of fan mail he's mistakenly received over the years. Which raises the question: who is still sending fan mail to old Adam Eaton?
The other Adam Eaton [AZCentral]