On the 72nd hole of the tournament, Adam Scott and Angel Cabrera both hit what in separate years would have been Masters Moments™, instead they went to a historic playoff. This was the first time two players birdied 18 to force a playoff.
On the first playoff hole Scott and Cabrera teed off from 18 again. Cabrera very nearly put his approach shot in again, and Scott came up just short. Both men hit their putts and so they went on to the 10th hole, where they exchanged thumbs-ups on their way to the green, putting for the Masters. Cabrera left his putt hanging just off the lip of the hole.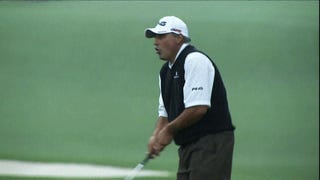 He would tap in for par.
That left Scott with a 12-foot putt to win the Masters, which he sank like it was nothing. Our friend Jim Nantz said you always want to see someone win the Masters and not lose it, and Adam Scott won it with two huge putts—the first on 18 in regulation and the second on 10, the second (and final) playoff hole of the tournament. He won the Australian Masters last November and became the first Australian to win the actual Masters today.