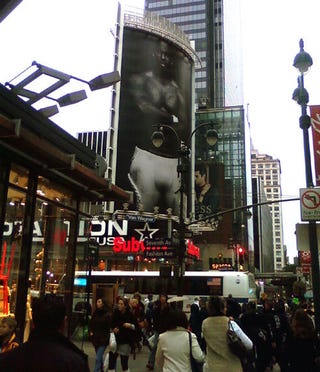 Got an image you'd like to see in here first thing in the morning? Send it to tips@deadspin.com. Subject: Morning crap.
While aimlessly wandering the streets of New York the other day, I spotted a very large package that was left unattended on the corner of 34th St. and Seventh Ave. Naturally, I notified police ("if you see something, say something!"), but they didn't seem too concerned. It's just a four-story high football player from another city with bad skin and a tasteful bulge. Nothing to be alarmed about.
As long as he protects us from Cloverfield monsters, I guess we can live with it.
Update: A reader wrote into say that that's actually the Giants' Justin Tuck. Which would make more sense I suppose, but honestly I can't tell. They all look alike.
Crotches, I mean.
* * * * *
Oh, Fridays. You frustrate us with more and more work, yet we can't start the weekend without you. You're such a devil goddess. Anyway, here we go.