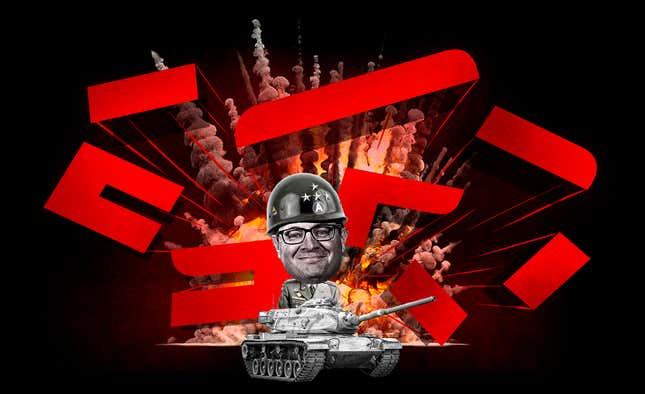 ESPN laid off 100 employees last week, mostly on-air personnel and online reporters. At least six of those let go reported on the NBA: Henry Abbott, Marc Stein, Chad Ford, Ethan Sherwood Strauss, Justin Verrier, and Calvin Watkins. But while no area of ESPN's coverage was spared from the bloodbath, the gutting of ESPN's NBA coverage was different, and has left many of ESPN's NBA reporters scared, confused, and enraged at their bosses.

Can the Florida Panthers make a comeback? | Agree to Disagree
Three months ago Deadspin reported that NBA scoopmaster Adrian Wojnarowski was close to joining ESPN. Multiple other publications have confirmed that the deal has been finalized, and that he will join ESPN sometime around July 1, after the NBA draft.
The NBA is ESPN's second-most important sport—it paid $1.4 billion to broadcast the league this season—and so it was surprising to see so many integral to its coverage laid off in the middle of the playoffs. Abbott directed ESPN.com's NBA coverage; Stein was ESPN's primary NBA news-breaker; Sherwood Strauss covered the team most likely to win the NBA Finals; Watkins covered the team with the third-best record; and Ford provided most of ESPN's NBA draft coverage. (He'll stay on through the draft.) And so the conclusion that many at ESPN are drawing is that their colleagues were laid off because of Wojnarowski.

Wojnarowski will arrive at ESPN sometime in the next few months. ESPNers have been told that Wojnarowski will be a reporter, not an editor, and that ESPN has learned from the mistakes it made in granting power to Bill Simmons and Jason Whitlock. ESPN sources were, though, divided on whether or not they believed that Wojnarowski would be simply a reporter.
Whatever his eventual role, it might just be semantics. Those within ESPN—and multiple reporters outside of ESPN—expect that Wojnarowski will bring most The Vertical staffers along with him. ESPN may even be buying The Vertical outright. (Yahoo and ESPN declined to comment.) Wojnarowski might be just a reporter, but his presence looms large behind the decisions ESPN is making, and some ESPNers believe Yahoo editor Johnny Ludden will take Abbott's role in running ESPN.com's NBA coverage.
The question, then, is this: Did Wojnarowski explicitly tell ESPN to clear out employees to make room for his arrival, or did ESPN simply do it for him? (Wojnarowski didn't respond to requests for comment.) Several—though not all—ESPNers in the NBA group I spoke with believe it is the former. Abbott is close with Grizzlies exec and former ESPNer John Hollinger, a notorious Wojnarowski enemy, they say, and Stein has been his biggest competitor for years. A piece Sherwood Strauss penned seven years ago criticizing Wojnarowski has been passed around ESPN the last several days as if to say Look, that's why he's gone.
In all, ESPN has wreaked havoc on its NBA group, sowing divisions, leaving employees fearful there will be more cuts, and, most of all, confusing them. Stories are circulating about people calling and emailing colleagues about routine matters, not knowing they'd been laid off; confusion over who to turn to about story ideas and whether certain expenses would be approved; uncertainty over who to report to; and disappointment at having received little to no communication from those above explaining what was going on.
Abbott's vision of how ESPN should cover the NBA always conflicted in some ways with the larger mandates of a television company aimed at the lowest common denominator. He spent a lot of time mentoring young writers. He prioritized long, in-depth stories; focused on health, wellness, advanced statistics, and ways to improve the NBA; and downplayed the value of breaking news five minutes ahead of press releases. One of the stories he shepherded was ESPN.com's most-read NBA story of 2016, and another was nominated for a prestigious GLAAD award.
In other ways, he was the future ESPN hopes to get to, the future alluded to in two memos about the layoffs. Abbott formed the well-regarded TrueHoop network of podcasts and videos, and was a driving force behind the NBA Sidecast, a novel experiment at providing live second-screen video. He was ahead of the game.
But lately, ESPN executives have pushed their NBA reporters in a different direction. Reporters were chewed out last summer after The Vertical's live draft show drew a raft of positive press, and before the most recent season began, they were sat down and told to break more news.
The layoffs thus have a certain kind of internal logic. Three years ago John Kosner—who oversees ESPN digital—promoted Abbott to lead NBA coverage, but at some point seemingly came to believe that ESPN.com's NBA coverage needed fewer magazine cover stories and more scoops. Abbott is out, and the NBA's scoop king is being brought in.
But if ESPN is indeed moving in that direction, laying off Marc Stein makes no sense. Stein has been with ESPN since the early 2000s, and practically built its NBA coverage. I have never heard a single person, inside or outside of ESPN, say a bad word about him. Alongside Wojnarowski, he is the NBA's foremost news-breaker, with deep connections within the league and huge stories every year. If the mandate is to break news, what possible reason could there be to fire Stein other than Wojnarowski not wanting a longtime rival around?
Stein just re-signed with ESPN in October, and according to a source, has three-and-a-half years and over $2 million left on his contract. (Stein's agent, Evan Dick, declined to comment, but noted that while Stein was indeed laid off, the layoff hasn't yet taken effect, and that he filed a piece yesterday.)
It is important to note that the ESPN layoffs were not buyouts. ESPN did not give laid-off employees severance or any other type of lump-sum payment. Instead, ESPN will continue to pay them for the length of their contracts. They just won't be able to report or otherwise do their jobs. If Marc Stein—or any other laid-off ESPNer—wants another, likely less well-paying, job, they will still have to go back to ESPN and negotiate an exit.
There is at least one final wrinkle here. The debacle has caused some ESPNers to cast a side eye towards the powerful agency CAA, which represents both Wojnarowski and Stein, as well as numerous ESPNers and professional athletes. They're questioning why Stein's agent didn't seem to know he was being laid off even though it was because of the movement of another CAA client. They are wondering why Stein wasn't found a life raft at Bleacher Report, TNT, FS1, or elsewhere prior to the layoffs, and instead was "humiliated," in the words of one industry source. Upon learning Stein was laid off, at least one prominent ESPN employee contacted their CAA agent and asked why the agency hadn't protected him better.
Adrian Wojnarowski has been waging war on ESPN for years, but he isn't stupid. With Yahoo being bought for a cut-rate price, the pragmatic move was always to join ESPN. But as it turns out, he's able to eat his cake and have it too. ESPN's NBA coverage was, if not destroyed, severely diminished last week, and those that remain will have to make nice about it. And the best part? Wojnarowski didn't have to lift a finger. ESPN did his dirty work for him.