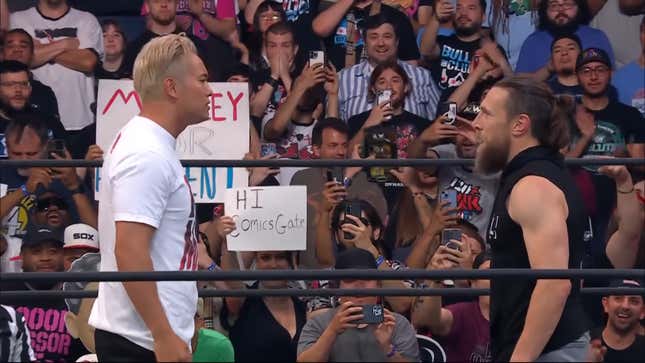 At its heart, AEW's working ethos has always been to give fans what they want. What that means, most of the time, is to put on matches that seemed impossible before, or that their fans have been hoping to see one day. Whatever the hiccups at times, whatever the drama, whatever the long way around they sometimes go to get there, at its core AEW is still built on pops for just seeing two guys square up to each other in a ring.
Bryan Danielson's road to MJF and the AEW World Title
It's why one of their biggest moments is still Bryan Danielson and Kenny Omega in opposite corners when the bell rings. It's the place where FTR and The Young Bucks could settle the best tag team debate somewhere else other than Twitter. It's the crowd losing its shit at seeing Malakai Black climb through the ropes to engage Omega at last March's Revolution, perhaps a combination that a lot of fans hadn't even thought of (a lot of these involve Omega or Danielson, because everyone spends far too much time during a workday thinking about all the people they'd like to see those two wrestle. Luckily, this is my work day). It's the place that actually got CM Punk back in the ring. AEW is where this stuff comes to fruition, where the Reddit threads and Twitter fantasy booking actually comes to life.
Forbidden Door is the absolute peak of that video game construction being in reality. It was only a few years ago that the idea of a major American wrestling company constructing a show with NJPW was nothing more than farcical. The imagined matches we all had in our heads remained that, something you had to convince yourself to not take so seriously before the weight of reality and impossibility crushed your gentle spirit (I am that guy, Punk!). NJPW kept being that thing that harkened back to the days of tape-trading and whispers among fans, something you only knew if you were truly "in the club."
Forbidden Door has become the wrestling fan's Burning Man, where anyone can come and enjoy but is a truly religious experience for the biggest fan (even though I'm still not sure what exactly goes on at Burning Man other than a lot of sunburn). Wrestlers we only see through bleary eyes in the middle of the night on a pretty janky app in Japan suddenly right in front of us locking up with guys we watch every week. It's the most euphoric shade of, "What the fuck is he doing here?!" that mainstream sports fans will get when Lionel Messi is playing in Columbus for Inter Miami.
This is beyond that
Sunday's main event, Danielson vs. Kazuchika Okada, is the absolute height of the fever dream that this show has become in only its second edition. While Omega's match with Will Ospreay earlier on the card may end up being as good and as good as their first match this year at Wrestle Kingdom, because we've seen it before and Omega's time with NJPW means it doesn't have the same hallucination quotient as Danielson-Okada.
I have found it tricky to get excited for the match, simply because it's hard to fathom that it's even happening. Danielson has long been in the conversation of the best wrestler in the world and one of the greats of all time, but locked in the world of WWE for enough of his career where he had to force the matches he wanted to do into the company. There are still videos of his old ROH and indie matches that live on in legend, but they felt consigned to a different era for so long. That was then, this was his reality now, and those two times will never meet.
Danielson's arrival in AEW, still just two and a half years ago, opened up so many possibilities, the most exciting being that he could get back to that bygone era. So yeah, two 60-minute matches (one on free television for fuck's sake!), locking up with Minoru Suzuki or finally getting into a ring with Omega and a host of others on his personal wrestling joyride.
And even with suddenly everything being possible…Okada? This was the one we dared not speak its name. There are legends, there are institutions, and then there's Okada. Okada is what WWE wants you to believe Roman Reigns has always been, but just is without the production or rewriting of history. He's just that good and kept putting on incredible matches for over 10 years now. It would be more accurate to say he is NJPW more than he's just their standard-bearer. Okada's profile on this side of the Pacific rose thanks to his series of matches with Omega in 2017, ones that created such a buzz that every wrestling fan had to seek them out. But his mythical status in Japan goes back much farther than that, and his rivalry with Hiroshi Tanahashi is widely credited with being the bedrock of NJPW's current era. There is no one on the planet that is a surer bet not just for a great match but one that makes a definitive statement.
Put it this way, he's been the litmus test for wrestling fans for pretty much a decade now. If you know him, you're officially a goofus.
While AEW's modus operandi has been giving the fans what they want, it goes both ways. It is the place where wrestlers can have the matches they always wanted. Danielson has said as much, though one wonders if even he thought a match with Okada was beyond something he'd dream of. It's what getting to eat In-N-Out or drink Yuengling was 20 years ago when regionality was much more of a thing. Given what these two are capable of, they could do anything together, and probably will over the course of 25-30 minutes or more. There is not one style they have to be restricted to, or even three. It's as if fans were finally getting that MJ-LeBron one-on-one. Neither would settle any debate, but the sheer euphoria of seeing them together would be enough to paper over that.
When the bell rings on Sunday night at the end of Forbidden Door, the sound you hear will be 15,000 people coming to the realization that something that was never supposed to happen for all sorts of reasons is actually happening. It'll be the roar of excitement mixed with disbelief, shock, and probably a fair few brains shorting out at it all. It's a sound that is oxygen to AEW.
---
Follow Sam on Twitter @Felsgate as he tries to describe it all from his seat in Scotiabank Arena Sunday.