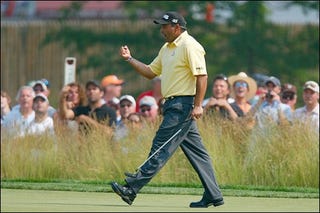 If you got points for impressive pars, it would've been Tiger Woods' day ... but the man couldn't squeeze a birdie out of his Sunday round to save his life. Angel Cabrera, who shot a very impressive 69, is your winner. Oh well. I'm sure he has a dad, too.
But it's another major championship without a signature highlight. When people think about the 2007 US Open, they'll think about Tiger missing the last putt, about Baddeley falling apart all day long, about how Cabrera won the trophy while sitting in the clubhouse, despite playing the last 3 holes at +2. I don't know where golf got the idea that people want to see bogeys more than they want to see birdies.
Elsewhere tonight, there's the Mets vs. Yankees game on ESPN, and you won't want to miss Chris Berman's Open recap on ESPN News. Enjoy your Sunday evening, gang.
2007 US Open Championship [US Open]