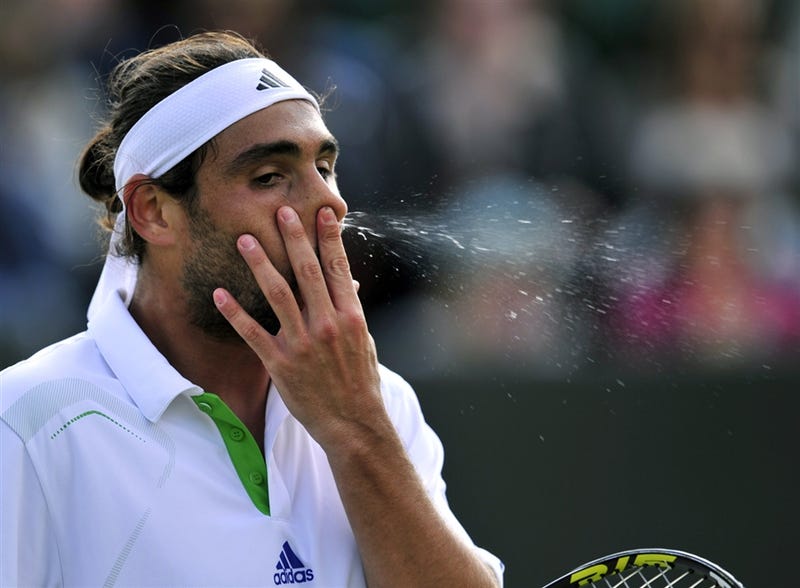 Your morning roundup for June 24, the day Nike just said fuck it, do drugs.(Marcos Baghdatis photo via AFP-Getty Images)

What we watched: The Chicago Sky beat the Connecticut Sun in double overtime last night, 107-101. Connecticut stayed in this one despite being out-shot by the Sky by about 15 percent (the Sun were 39.8% from the field; Chicago was 55.8%). Epiphanny Prince had 25 points for the Sky, 10 of which came in the second overtime. Prince has the special title of being one of the few more notorious players in the WNBA: she once scored 113 points in a single high school game, she and her team were the target of Don Imus's April 2007 ignorance edition, and she was just the second women's player ever to leave college early and play professionally in Europe. She did it to fulfill that pro basketball dream that's usually understood to be a distinctly male dream — to get her family out of the Ingersoll housing projects in Brooklyn, where she grew up playing with the boys on the outdoor courts. Now she's with the Sky, and she might be making about $50-60,000 this year. Hers is the perfect draft story, really — exactly the kind that ESPN loves to highjack. But she couldn't watch the five-hour dog and pony show last night, because she had a game. (Emma Carmichael)

What we're watching: The NHL entry draft is tonight, and even hockey fans are having a tough time getting psyched for it. It's never a particularly polished broadcast, and scheduling something for a summer Friday night is not a sign you're expecting big ratings. And, yes, the prospects.
"The name that keeps popping up as the unanimous choice among NHL scouts and fellow GM's is Red Deer Rebels center Ryan Nugent-Hopkins," says NHL.com. I can confidently say I've never heard of Ryan Nugent-Hopkins in my life. That's a failing on my part rather than his, but the sad truth about even tonight's first round is that to the casual fan, there are a ton of kids we don't know, and among them, a good number that we'll never see again.
Nugent-Hopkins should have a solid career - there hasn't been a No. 1 pick bust in more than a decade. But hockey's a different animal than basketball. Most everyone from last night's first round will see decent minutes on an NBA court as soon as next season. But even the NHL greats tend to toil in the minors for a few years, so it's hard to get hyped for someone who may or may not make a promising rookie in 2014. It's an age thing, and a physical/metal development thing and it's a lot like baseball in that way. Not coincidentally, they're the two Big Four sports that have organized minor leagues, and a relative dearth of shady business at the amateur level. But they also have drafts that are boring as sin. (Barry Petchesky)

Elsewhere
Chills for the Dukie!: "Two years ago, Kyrie Irving attended the NBA draft in Madison Square Garden with his stepmother, Shetellia Riley Irving.At one point in the evening, after watching player after player walk across the stage and shake NBA commissioner David Stern's hand, Irving turned to his stepmother and said, 'I'm going to be there one day.' Five weeks ago, Irving attended the NBA lottery in Secaucus, N.J., where the Cavaliers earned the No. 1 pick in the draft. Asked if he felt as he was almost in the NBA, 'No, I don't feel like I'm there yet — not until I shake David Stern's hand and put on a hat.'" [Cleveland Plain-Dealer]
Thoughts on the draft from brilliant basketball minds: "I am pouring myself some wine. Also, people drafted naked. That's where this league is headed." [The Classical NBA Draft Blog]
Did you know? There are never-ending waves!: "Today I came across a semi-natural standing wave that looks a lot cooler than anything man-made. The wave is created by diverting water from the Waimea River, which runs from the Alaka'i Swamp in Hawaii (the largest high-elevation swamp in the world) to the Pacific. Local surfers dig a channel from the river across the beach. At [first] this man-made channel carries no more than a small stream, but as sand is carried away by the water it becomes a raging torrent that produces a magnificent set of standing waves." [Mostly Toasty]
Another devastating strike against smoking: "The St. Petersburg Pelicans and the St. Pete Saints were represented on throwback days. Tampa Tarpons jerseys showed up on Rays' players last year. But the jerseys chosen for the July 2 game – recreations of the Tampa Smokers design – aren't exactly identical to the originals. The beige home-field jerseys have Smokers written across the chest in red with a lit cigar stitched into the logo's underscore. Not cool, some would say, since the team has in the past supported 'Tobacco-Free Florida,' and other anti-smoking campaigns. Public service ads have aired during televised Rays games and some of the players have done commercials urging tobacco users to quit. So, the Smokers' stogie was unceremoniously un-stitched from the shirt." [Tampa Tribune via Big League Stew]
Daniel Briere is shocked: "I'm shocked. I never saw it coming," he said. "There were rumors, and I knew something might happen, but to see both go, I'm shocked." [Philadelphia Inquirer]
Portland's just loving soccer ironically, though: " So maybe the spirit of American soccer fandom has not attained the open hostility that pervades the sport in much of the world. But what is playing out in Portland, where the Timbers are the hottest ticket in town in their inaugural season in Major League Soccer and passionate fans are embracing some of the trappings of their European counterparts, suggests that soccer might finally be poised to become a big-league sport in the United States." [NY Times]
Your freestyle canoe interlude:

A reader rebukes a literary journal for its misuse of hockey terminology:
"The photograph at the top of 'Against the Butterfly' shows Thomas down on the ice with his glovehand outstretched. He's pulling a puck destined for the top left corner out of the air. It is funny that you write, 'Thomas is one of the few goalies on whom going top shelf isn't a sure-fire goal, because he's not only playing the angle but staying on his feet.' First of all, going top shelf isn't a sure-fire goal on any goalie in the NHL, not even in any particular situation, not on prime slot shots, not on breakaways. And you show Thomas off his feet making this save with grace." [n+1]
We are all Dave McKenna CXXXV: Here's your daily link to Dave McKenna's brilliant "Cranky Redskins Fan's Guide to Dan Snyder," which we'll be posting every day until Snyder's dumbass libel lawsuit joins the dodo in hell.
Spoonerisms in Central Jersey: "Blatterfein had asked Cahill why it's OK to have a Cluck-U Chicken in town, but not Buck Foston. Cahill said it was fine because 'chickens cluck.'" [NY Post]