Because no one reads the newspaper, and SportsCenter's anchors are too perky for this early in the morning, Deadspin combs the best of the broadsheets and internets to bring you everything you need to know to start your day.
* Ryan H. writes: "I found this awesome product on the shelf at my local modells in Philly. It was the last one on the shelf, I have to imagine the others were bought out of pure curiosity." Either that or customers ran out of insulin needles.
* I guess Kobe Bryant enjoyed his rest, since he scored 40 and the Lakers crushed the Suns to take Game 1 of the Western Conference Finals. Will nothing make this guy happy? [LA Times]
* The Yankees blew a five-run lead, then scored four in the ninth off Jonathan Papelbon, including a game-tying HR by Alex Rodriguez and you stopped caring when I said "Yankees," didn't you? There was other less mind-blowing baseball too. [ESPN/MLB]
* Lane Kiffin—career head coaching record, college and pro: 11-21—makes $4 million a year at USC. He's too big to fail. [Atlanta Journal-Constitution]
G/O Media may get a commission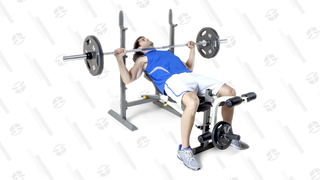 10% Off
Marcy Folding Weight Bench
* Denver lineman Matt McChesney may retire from football after his foot got run over by a golf cart. (It crushed the same ankle he had surgically repaired a year ago.) Hey, if you don't tip correctly, the beer cart girl is not afraid to chop block you. [Denver Post]
* Speaking of ... Iraqi security forces say they've captured an al-Qaeda operative who was planning an attack on the World Cup next month. So enjoy your relaxing trip to South Africa! [NY Daily News]
* * * * *
So I guess it's Tuesday? Time really flies when you get the early bird or something.