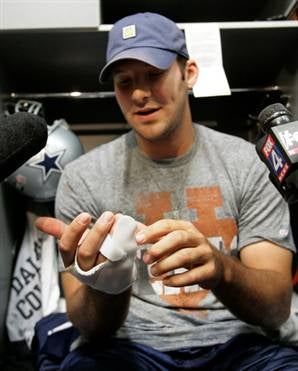 Just a handful of moments after announcing that Tony Romo would return to action this week, Jerry Jones puffed himself up and guaranteed that the Cowboys would make the playoffs. I believe the term he used is that they would "absolutely" be there. Also, Jones said that he would welcome back Pacman Jones with open arms, and that Wade Phillips' job is totally safe. Which most likely means that both Pacman and Phillips will be working at an area Arby's by Christmas.
"There's just absolutely no, I can tell you without hesitation, thought in my mind about him not coaching the Dallas Cowboys in the future, past this year," Jones said. "No thought. I haven't given that one ounce of consideration. ... His contract is his contract."
Bold talk for a man whose team is 5-4 and has lost four of its past six games. But getting Romo back has emboldened him. And just in time for the renewal of football's friendliest rivalry, Cowboys vs. Redskins, Sunday night. As we remember from last time, Dallas was 3-0 and making Super Bowl plans when Washington derailed them in Irving, 26-24. They've gone 1-4 since, and have averaged 13.7 points per game without Romo, who injured his finger in a loss to the Cardinals on Oct. 12 and has been out ever since. But now it's the Redskins who are hurting, as Clinton Portis appears to be out with a sprained knee. And since Ladell Betts also has a sprained knee, get ready for a large helping of Sweet Shaun Alexander. Adjust fantasy rosters accordingly. Meanwhile, bulletin board material continues to fly. First the Redskins' Fred Smoot said that his team "exposed" the Cowboys in their first meeting. Terrell Owens responds:
"I wouldn't say they exposed us," T.O. said. "We just didn't play well. If you look at the situation and the score, we lost by two points. I think there were some opportunities that we missed. If that's the case, I can say we exposed them the last time we played them, when I scored four touchdowns. "It is what it is. We're really not worried about what somebody else says. If he needs to say that to get himself hyped for this game, then so be it. We'll be ready."
Is it wise to disrespect the Smoot? Stay tuned. 'Boys In Playoffs? 'Absolutely,' Says Jones [NBCSports] T.O. Shoots Down Fred Smoot's Comment About Redskins Exposing Cowboys [Dallas Morning News]