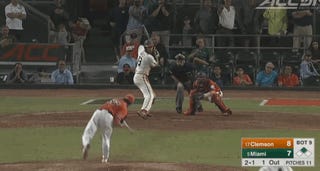 Miami Hurricanes star right fielder Willie Abreu has had one hell of a week. Last Friday, he dinged a walk off grand slam to beat Louisville. The Canes were taking on Clemson last night and had a comfortable lead until their bullpen blew a five-run lead.

Enter Abreu in the bottom of the ninth.
I particularly enjoyed that assistant guy throwing the empty Gatorade cooler up in the air like he was Donkey Kong or something.
h/t Conor
[ACC]