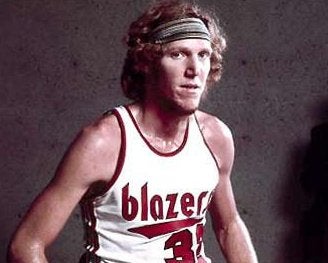 I hope that I live to see my 87th birthday, if for no other reason than I might be lucky enough to receive a spaced-out answering machine message from Mr. Bill Walton.
Harvey Pollack was so lucky. He is the longtime director of statistical information for the Philadelphia '76ers, who is still on the job after all these years. He even worked all six games of the NCAA tournament at the Wachovia Center this weekend. Anyway, he is apparently friends with the Big Redhead, who took time out from his busy Grateful Dead touring schedule (Jerry's spirit is always playing somewhere, am I right, man?) to leave a ridiculously long birthday message on Pollack's answering machine.
"Happy birthday, happy birthday. Harvey, this Bill Walton just in case you thought it might have been Neil Young or Tony Bennett or Barry Manilow or someone else. But I just wanted to call and wish you the happiest of birthdays and just say thanks for everything, Harvey. You make our lives so wonderful, so full, so complete. And you are such an intergalactic treasure. I cannot believe it's gone so fast - 87 years young. Oh. My. Gosh. .... Thanks for not only making a difference, Harvey, thanks for making the difference . . . in all of our lives. Where on earth would we be without Harvey Pollack? Happy birthday to you.

"You're the absolute greatest. We could never thank you enough. Thank you, thank you, thank you ....."
And it goes on like this. You should listen to the whole thing here, but I suggest turning down the lights first and getting real mellow, man.
A surreal birthday message [Philadelphia Inquirer]