Victor Thompson, a resident of Laconia, N.H., gained some notoriety a few years back when he decided to tattoo the Patriots logo on both sides of his head before Super Bowl XLII. Four years later, with the Patriots back in the Super Bowl to face the Giants again, I was curious as to what Thompson's been up to. I knew he lived a couple towns over from me, so I decided to try and catch up with him. As you can see, he's added much more to the art on his head. Also, on Dec. 29, he was sentenced to three months in jail for willful concealment—shoplifting, basically. With good behavior, he'll be released on Feb. 27. I was able to speak with him over the phone and get his thoughts about his tattoo, the Patriots, Rex Ryan, and more.
During your time in jail, have you still been able to follow the Patriots? Will you be able to see the Super Bowl?
Oh, god, yeah. I'm only here until the end of the month. I watch on a TV here, so I've been able to see all the games.
Was it tough after the loss against the Giants in Super Bowl XLII? How did you deal with it?
There was a lot of aggravation. A lot of people gave me grief about it. I don't drink no more, though. Now, I'm in a lot better place. Well, not this prison, but I got a family, wife, grandkids …
How was it dealing with the Patriots' other recent playoff losses? Worse or better than XLII?
Yeah, they were disappointing. I'm more aggravated with the stuff the Giants are saying now. They're guaranteeing this, guaranteeing that. … I'm not gonna say the Pats are gonna take this [Super Bowl]; I don't want to jinx it, but they're not going to let it go by easily.
Now that New England's back in the Super Bowl, how does it feel?
It's been work for us this season. The thing that I think hurt was getting rid of [Brandon] Meriweather before the season. I would have liked to see [Devin] McCourty step up. Also, I'm hoping Ochocinco is active in the game, and by some miracle he can contribute. But it's the coach's team, you know. Trust in Belichick.
G/O Media may get a commission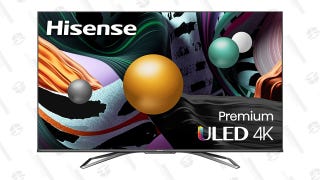 Save $350
Hisense ULED 65" Android 4K HDR Smart TV
Since 2008, have you had more added to the helmet?
It's all shaded in. There's the Lombardi Trophy on the top of my head, too. I got some signatures, too. I have Randy Moss, Wes Welker, and Gronkowski. I got Moss and Welker at training camp last season. I got the Gronkowski signature at Green Monster Sports [a store in Tilton, N.H.]. I paid my ticket, the players came up, and I got him to sign. I'm still trying to get the facemask. That's the No. 1 goal. With Myra Kraft's passing, I'd like to get Mr. Kraft to come up and sign, put the MHK initials on the side. She's a big part of the team.
At any point, did you regret having the tattoo?
No. Never. I'm gonna keep adding to it. There was something on ESPN about a guy who had been tweeting at Ochocinco for like a year, not getting responses and talking about how he was a huge fan. Eventually, Ochocinco took him out to a dinner. I'm not doing this to get things. I'm doing it for pride and support for my team.
What do the Patriots need to do to beat the Giants?
They gotta have good defense and Brady's gotta be on target. Nothing like the Ravens when they got the ball and he threw that interception in the end zone. That [Cundiff] kick wasn't missed by the kicker, by the way. That was Myra Kraft's spirit. I'm a big believer in spirits. I was at a friend's house once and saw some spirits.
Out of all the current Patriots, who do you think would be most likely to tattoo their head? I say it's Gronkowski.
Hernandez. Hernandez has got some artwork. I'd love to hook up with him and see his artwork. Maybe he could show me his artist so I can get some more stuff done.
I don't know if you know about this, but there was a Houston Texans fan who got a big Houston Texans tattoo with "Super Bowl XLVI Champions" on his forearm. Any thoughts on that?
Yeah, that was nuts. Like Sexy Rexy [Rex Ryan] and his toe-sucking jobs, saying, "Oh, this year we'll be in the Super Bowl"; you can't do that and jinx it. You'll get there if you deserve to be there. We [the Patriots] deserve to be there.
Hypothetical situation: You can get two of the best tickets to the Super Bowl in exchange for getting a Jets tattoo on your chest. Do you do it?
Yep. It'd be Rex Ryan sitting down, and Mark Sanchez sitting on his head.
Can I get a Super Bowl prediction?
34-17, New England.
Samer Kalaf is a writer from New Hampshire constantly looking for things to write about. Contact him at skalaf21@gmail.com; follow him on Twitter @samer_k.