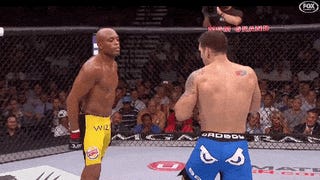 Troll King Anderson Silva is petitioning the Brazilian federation to allow the MMA fighter to compete in his original discipline, taekwondo, at the Rio Olympics in 2016. As the host nation, Brazil will have four guaranteed slots in the event, and Silva will meet with the Brazilian sport chief this week to discuss whether the suspended UFC star could compete in the Olympics at the age of 41.
Silva's still facing his final punishment after being busted for doping earlier this year, with a hearing scheduled to take place next month. (His sentence could extend up to a two-year ban from competition.) We can't imagine Brazil is super-psyched about the possibility Silva could test dirty at the Games, but The Spider is also one of that country's most acclaimed non-soccer athletes. As for us, we're fully behind Silva representing his country at the Games, especially given Brazil's historically poor performance in the event.
[ NBC Sports]
To contact the author of this post, write to tim@deadspin.com (PGP key) or find him on Twitter @bubbaprog.