Former Yankee prospect Andy Phillips is considered one of the nicest family men in all of baseball by other writers and his peers. So why has an adult actress filed a police report against him?
Ohtani has the WBC, but will Mike Trout ever lead the Angels to a championship? | Agree to Disagree
There have been a slew of athlete impersonation stories, from the recently sentenced Joba Chamberlain impersonator, to the cross-dressing guy claiming to be John Maine who stalked women at nightclubs, and it appears Phillips may be a victim of a similar crime. This story first became public — if you can call a news item on Demi Delia's personal blog "public" — January 26th, when Delia (actual name, Gina Rodriguez ) posted this official-sounding story with the title, "Former New York Yankee/Current Pittsburgh Pirate - Andy Phillips Accused Of Allegedly Impersonating Former Yankee Carl Pavano, the Phillies' Greg Dobbs, And Alleged Agent Jordan Kapler ." In that story, Delia said she and Phillips were engaged in some sort of romantic encounter that began over email. Oh, and Carl Pavano's involved somehow. Oh, and this whole thing was set up by the Phillies' Gregg Dobbs, and a cast of other characters also became enmeshed. Feeling duped, Delia's conclusion was that all of these individuals she was corresponding with were actually being impersonated by Andy Phillips. These interactions did lead to a face-to-face between Delia and the person claiming to be Phillips and Delia on Dec. 29th, at Hotel 57 in Manhattan. Yeah, they spent the night together, but after that, in Delia's mind, things got a little weird and now she's looking for justice. She says in her story, "I am bringing these charges in an effort to expose Mr. Phillips, but also to alert these people, Mr. Pavano, and Mr. Dobbs, that this man is fraudulently representing them in a bold and lawless manner. It's important that he be stopped."
Got it?
On January 3rd, Delia and her friend Elizabeth Coleman, filed a police report with the West Valley LAPD Detectives, which she faxed over to me. The charges weren't clearly defined, but it did state that Andy Phillips was impersonating other random major league players, a sports agent, and professional wrestler John Cena, and was becoming creepy. When I spoke to Delia on the phone, she was thoroughly convinced the "Andy Phillips" that was bothering her and her friend was the actual Andy Phillips, who now is fighting for a roster spot with the Pirates. She didn't sound delusional, insane, or vindictive. She actually seemed quite rational for a porn star. Nevertheless, her story about their tawdry romance and subsequent harassment seemed completely implausible, considering a few writers who've interacted with Andy say it's not likely he'd be involved in this sort of porntaculous fling.
G/O Media may get a commission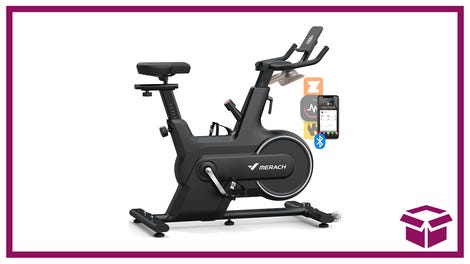 14% off + Coupon
Merach Indoor Cycling Bike
"I think he was one of the nicest players I'd ever met," said one New York Daily News writer. "And I thought he was pretty heavily involved in the church..."
But, hey, Andy Phillips might have been touched by the same porno-lusting devil that's taken plenty of Jesus-lovers down. It happens.
Here's an interview with Phillips from 2007, after he was called back up to the Yankees, which gives a pretty good glimpse into the man it appears most people, except Demi Delia, think he is.
Delia, forwarded along one of the emails "Andy Phillips" sent her during their correspondence, which she later submitted to the police for evidence. Here's one:
Oh my. That's positively filthy. Oh, you find it hard to believe that any real major league player would use the email address name "Andy1BPhillips", too? Unfortunately, Demi Delia did. Actually, one of the other emails from "Carl Pavano" had a similar address: CarlPitchPavano@yahoo.com.
Nevertheless, Delia is adamant the man she met, presumably spent the night with, was Andy Phillips. This is what she stated in email after I showed some skepticism about it:
He told me and [redacted] he had a home in New Jersey, Miami, Orange County and Alabama. He came to my hotel, I was staying at Hotel 57. He was in the room from like 1030pm to 130am and then he left the room to get us Orange Juice and Snacks because I was sick. Me and [redacted] waited in the room and when he came back 20 minutes later he had 2 complimentary breakfast vouchers that he said the guy at the front desk gave him because he recognized him.Then when he came back he stayed with me until 730am. I wasnt drinking or anything. it was him for sure. My girlfriend [redacted] is a sports fan and she and him were talking about baseball. She even said it was him for sure. She saw all the pics too. These werent like photos of him standing with a player posing for a pic. they were personal photos of them hanging out. Also pics of his wife in there home. Pics of his daughter.
And...
"he had also made a phonecall to a guy who he said was Peter Warrick, because [redacted] went to FSU and she was telling Andy that and he said my good friend went there and then he called him and put him on speaker phone. [Redacted] spoke to him too but they had went there different years. He called him at like midnight.
He also called someone named Kelly who he said books all his rooms, because he was trying to get me into Four Seasons that night. "

She gave me the phone number with a Jersey-based 908 area code (one of the many he gave her, she claims) of "Andy Phillips." I called and left a message and waited. A few minutes later, I received a text message back:
ALLEGED ANDY PHILLIPS: "Who is this?"

ME: My name is A.J. Daulerio. I am a reporter with deadspin.com. I was looking for Andy Phillips about a story we're working on. This was the number I was given to contact him. Sorry if I am wrong.

ALLEGED ANDY PHILLIPS: "Who? you have wrong number."
Shocker. Anyway, I contacted Phillips' agent, Rex Gary, and asked him if he was even aware of the allegations. He was not I showed him the link to her site with the story and some of her other allegations. He was pissed.
Gary claims that Delia's story is "absurd" and that Andy Phillips wasn't even in Manhattan on Dec.29th. According to Gary, Phillips spent most of the holidays visiting churches with his wife and children. But the story did concern him enough that he turned it over to the Department of Investigations of Major League Baseball, which is staffed by former police officers. Sure enough, soon after Gary told me that, I get a phone call from Victor Burgos, from the MLB Department Of Investigations. I told him what I knew, I gave him Demi Delia's contact information and Burgos offered to keep me updated on the investigation. He also said that he hoped we could work together in the future, because a lot of the "complaints he gets from players are about the stuff that appears on blogs." Yeah. Great.
According to Pat Courtney, VP of MLB public relations, the Phillips case is still ongoing. But given the evidence available here and elsewhere, it appears more and more likely that poor Demi Delia actually spent the night with an Andy Phillips impostor.
The only thing left to answer about this case, for now, is what kind of wacko attempts to seduce porn stars by posing as a career .248 utility player?
So be on the lookout, ladies: That charming professional baseball player, who woos you with seductive emails about places he'd like to ram his cock, may not be the man he claims to be.