When Andy Reid was fired by the Philadelphia Eagles in 2012, our own Tom Scocca called him a "powerful but slow football thinker," and described what it was like to watch Reid's offense slowly, painfully deny itself a shot at a Super Bowl victory:
The Eagles needed two scores, and they got one of them—on that still-baffling three-minute-45-second slow march down the field, their relentless downfield progress matched by the even-more-relentless draining of the clock. It was the Andy Reid-iest sequence of Andy Reid's career; I watched it with a friend who hates the Eagles, and he abandoned his rooting interest and started yelling at the TV set in sheer objective disbelief and frustration. How could any team be so stupid with so much on the line?
Ohtani has the WBC, but will Mike Trout ever lead the Angels to a championship? | Agree to Disagree
Reid's Kansas City Chiefs found themselves in almost the exact same situation against the New England Patriots on Saturday. Down 27-13, the Chiefs got the ball on their own 22 with just over six minutes remaining. Reid still had all of his timeouts.
The box score will tell you that the Chiefs ran a no-huddle offense throughout the drive, but their march down the field was about as slow and deliberate as a hurry-up attack can get. Eventually, 19-yard pass to Albert Wilson put the Chiefs on the one-yard line with just under three minutes to play. Alex Smith hurried his team up to the line as the clock ran. The next snap came with 2:33 left to play, and running back Charcandrick West was stoned at the line. The clock kept running.
After the two-minute warning and a false start, Smith completed a short pass to Jason Avant to get them back to the three-yard line. The clock was ticking, and Smith made some frustrated motions at the sideline:
G/O Media may get a commission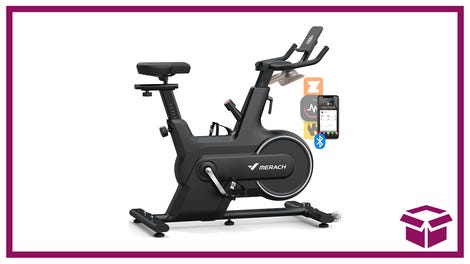 14% off + Coupon
Merach Indoor Cycling Bike
Smith was eventually forced to huddle up his offense. Yes, a team down by 14 points with less than two minutes to play actually huddled up to call a play while the game clock continued to run. If there is one surreal image to define Andy Reid's contribution to the game, it's this one:
From there, the game ended as it was always going to, with the Chiefs getting the touchdown and the Patriots kneeling out the game after a failed onside kick. There was Andy Reid, in his natural state, one score short and with a pocket full of useless timeouts. Worse still, he claimed after the game that everything had gone according to plan:
"We potentially would have had three timeouts and an opportunity to drive the field, which I thought was huge," Reid said. "It would have put us in a perfect situation to do that. We work on that every week. So I thought that part was handled right.

"When it was all said and done, we had plenty of clock to take care of business."
This is what's so frustrating about Andy Reid. His inability to effectively manage late-game situations doesn't seem to be the result of anxiety or flare-ups of boneheadedness, but of a hardwired deficiency. It sucks, because he's spent a career proving that he's one of the best coaching minds in the game—he turned a 2-14 Chiefs team into a playoff contender and made Alex Smith a useful quarterback—but this is just who Andy Reid is, and it's who he'll always be.