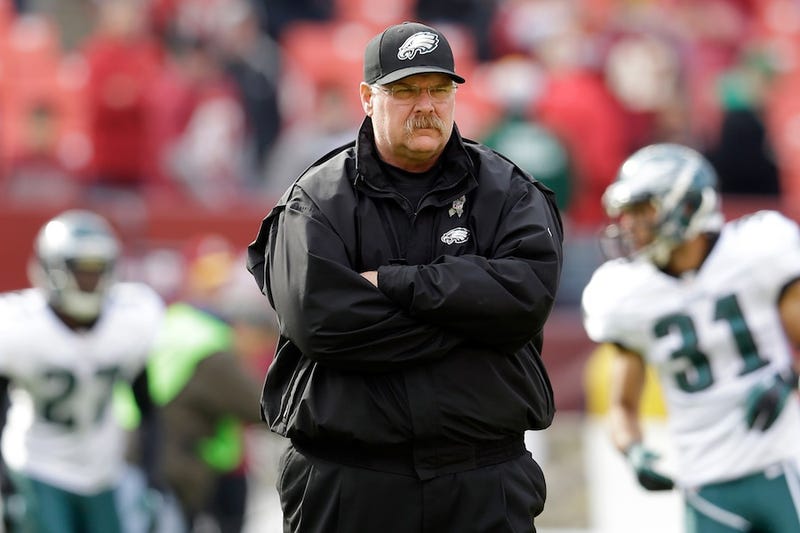 If you're following our updating coach termination liveblog, you already know this—or, if you've watched the Eagles this year, you'd surmised it—but Andy Reid will not be patrolling the Eagles' sideline next year. Reuben Frank reports [video at link], "Jeff Lurie and Andy had spoken even before the game, possibly, I guess late last week, and Jeff Lurie told him that he's going to go in a new direction with head coach." If it seems like Reid was dismissed extremely quickly after today's game—the news broke about an hour after the final whistle—that's false: He was actually dismissed before it.
CSN Philly has a long—perhaps written in advance?—post-mortem on Reid's career with Philadelphia:
Andy Reid, who led the Eagles through one of the most successful periods in franchise history and was once called "Coach for Life" by owner Jeff Lurie, has been fired after 14 years as head coach of the Eagles.

Lurie, according to two sources, has told Reid, who has one year remaining on his contract, he would not return in 2013, ending months of speculation about his future.

The team has not announced a press conference.

Reid's tenure with the Eagles ended almost 14 years to the day after Lurie hired an unknown quarterbacks coach from the Packers to replace Ray Rhodes after a 3-13 season in 1998.

With 14 years of service, Reid was the reigning dean of NFL coaches and fourth in service among head coaches in all four major leagues, behind Gregg Popovich of the Spurs (17 years), Lindy Ruff of the Sabres (15 seasons) and Barry Trotz of the Predators (14 seasons).

Reid, 54, is a three-time NFL Coach of the Year, winning the honor after the 2000, 2002 and 2010 seasons.
The race to find the saddest newswire image of Andy Reid starts now.
Sources: Reid Is Fired As Eagles Head Coach [CSN]
UPDATE, 6:34 p.m.: Reid (through NBC 10 in Philadelphia) begs to differ—not only was he not fired before the game, he wasn't fired at all:
While there have been several reports that Philadelphia Eagles head football coach Andy Reid has been fired, following Sunday's disastrous loss against the New York Giants, Reid and the Eagles are refuting those reports.

NBC10's Vai Sikahema texted Reid during the 4th quarter, and Reid replied via text message after the game saying, "Haven't been let go, will talk with Jeff tomorrow."