Jim Traber's a mouthy sports radio host in Oklahoma City who made blog news last week after he engaged Thunder forward Nick Collison in a mindless pissing contest and this week he's gone full-agitator on Bill Simmons.
Traber, of course, took his annoyance to the airwaves, blasting Simmons on everything from his lack of sports knowledge to his voice to his nose-in-the-air attitude. This all because of this Twitter update Simmons let fly last week after he was asked to be on Traber's radio show to talk about the Collison mess:
"Note to unpopular, low-IQ sports radio bully/hosts in non-Top40 markets: I'd never come on your show to bring you attention. Ever. Not ever."
Traber retaliates:
• "It's pretty obvious that he is one of the wimpiest little dudes I've ever seen in my life. And I cannot believe for as high up of a job as he has-supposedly-that he would act like that, but I guess that's the way he is."
• "He doesn't do any homework. He's not a guy-he knows nothing about sports. He's just a writer who goes out there and writes crap."
• "Did you hear that voice? No wonder the dude doesn't like going on radio. I'm not telling you not to love the dude-read his tweats…The fact of the matter is, the dude is a little sissy. He has no accountability, he writes whatever he wants to write. If you're cool with that, go for it."
• "I will tell you that Bill Simmons and the grungy little punks in Seattle are made for each other."
G/O Media may get a commission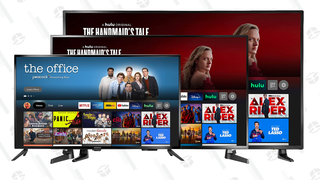 Up to 44% off
Prime Early Access - Insignia Fire TVs
Awesome. Simmons=Mudhoney.
For He Is Traber, Lord Of The Idiots [Daily Thunder]