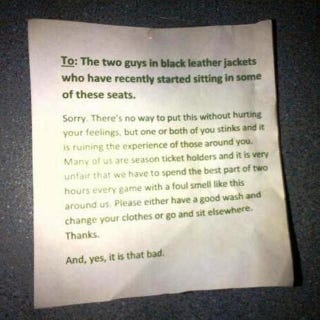 Yes, an anonymous note is passive-aggressive. But there's no polite way to confront somebody about their body odor, and if you have to sit next to them for two hours every week, it's probably better to speak up than suffer in stinky silence.
Via Mancunian Matters, this note was left posted on a seat at the stadium of Stockport County FC, a club in the sixth tier of English soccer.
To the two guys in black leather jackets who have recently started sitting in some of these seats.

Sorry. There's no way to put this without hurting your feelings, but one or both of you stinks and it is ruining the experience of those around you. Many of us are season ticket holders and it is very unfair that we have to spend the best part of two hours every game with a foul smell like this around us. Please either have a good wash and change your clothes or go and sit elsewhere. Thanks.

And yes, it is that bad.
The local paper has urged readers to identify the offending fans and contact their news desk, because this story clearly begs for a follow-up. Anyway, if you know any smelly people in Greater Manchester, you know what to do.