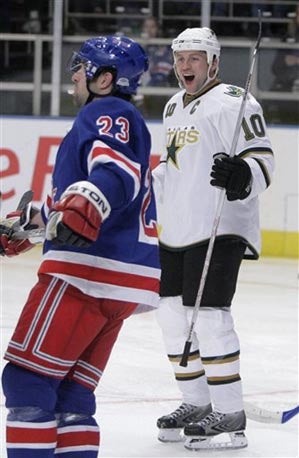 It's the NHL Closer. We pass the mic to the kids at Orland Kurtenblog. Their NHL Closer is written by Canadians for Americans.
The Rangers, they get no coffee. The Rangers outshot the Stars 41-18 and thoroughly outplayed them for 60 minutes on Sunday, yet it was those same New York Rangers who ended up on the wrong end of a 3-2 scoreline at Madison Square. Brendan Morrow scored the game winner early in the 3rd period, and as a result, gets the Glengarry leads. Jaromir Jagr will meet with the Nyborgs in the morning.
Jamal for Mayers. Manny Legace stopped 24 shots for the shutout and Jamal Mayers scored twice as St. Louis beat Calgary 3-0 at the Scottrade Center. Quietly, the Blues are having a stellar campaign - they've won six of seven, outscoring the opposition 17-9 in the wins. Of course, people are having a hard time noticing. From NHL.com - "The largest cheers from the crowd came during the first period when the University of Missouri fight song was played in a tribute to the school's football team that earned a No. 1 ranking in The Associated Press poll this week for the first time since 1960." Sigh.
Untouchable, like Elliot Ness. Sunshine state supremacy was fully restored Sunday as the Anaheim Ducks knocked off the LA Kings 3-2. Red hot Ryan Getzlaf scored a pair - he's riding an eight-game point streak - and the Ducks have now won three straight over the Kings after dropping the season opener 4-1...but that shit happened in London. Cali is where the Ducks "put they mack down." Werd.
Welcome back, Brent. Don't let the door hit you: For 29 other franchises, Brent Sopel is a journeyman defenseman blessed with a solid grullet. They'd be shocked to learn, then, that the man called "Sopes" is an absolute cult hero in Vancouver. Here's something you didn't know about Brent Sopel: he dropped acid at the 1988 Monsters of Rock show at the Kingdome and totally freaked out during "Rock You Like a Hurricane" by the Scorpions. But he totally pulled it together for "Still Loving You." *
Anyways, Sopes was at his finest on Sunday, recording two delay-of-game penalties as his Blackhawks lost 2-0 to the Canucks in Vancouver. Brendan Morrison's game-winner came during while Sopes served the first one. An appreciative Vancouver crowd applauded.
*didn't actually happen.