Judging by the club's post-Alex Ferguson travails, it would've been perfectly fitting if Anthony Martial—Manchester United's last-minute solution to their attacking woes, who cost the club about two arms and four legs—would've turned out to be a bust.
Martial was brought in during a summer of hope and promise, when United were to finally regain their spot alongside the true greats in the world by going after bona fide studs like Gareth Bale and Neymar and Thomas Müller. As time was running out, and after United's dogged pursuit of those top-tier names looked more and more ridiculous, the club scrambled to buy somebody, anybody who could score or create some goals. As the transfer window finally closed, all mighty Manchester United had to show for their efforts was some 19-year-old kid few people outside of France had heard much about, who was maybe a striker or maybe a winger but definitely not (yet, anyway) a centerpiece for a Premier League title challenger. Few things would've been more lolunited worthy than that guy proving to be a fraud.
Fortunately for United and their fans, reality has worked out differently. Anthony Martial is a star in the making. What might have been positional uncertainty over whether he was best out wide or in the middle has instead proven to be valuable versatility, as Martial can be as deadly sneaking between center backs to run onto a through ball as cutting inside on a full back and putting one through the spin cycle. The Frenchman is an exceptional dribbler, a strong finisher, combines well in the team's build up play, has the vision and ability to see and execute dangerous passes to set up his teammates for shots, shows solid decision-making and is unselfish—practically every skill a modern forward needs to be successful, Martial has in spades. Rather than becoming the laughingstock of the sport for dumping a metric ton of cash into the English Channel in exchange for a bill of goods, those behind the Martial transfer now look like visionaries for spotting a potential jewel and snatching it up at any cost before most could tell whether it was a diamond or quartz.
Tuesday's match against Stoke was more evidence of Martial's preeminence. Wayne Rooney may have been the headliner, continuing a productive stretch of goals (seven scored in his last seven played) after a prolonged fallow period, but Martial was the best player on the field. Almost everything good in United's 3-0 win could be traced back to Martial. His movement, his dribbling (I mean, Jesus, this guy is guy is built like a center back yet maintains the agility, gracefulness, and technique to flit around defenders at will—and that's all before he hits the gas and burns right on past them), his passing (one assist, six chances created), his finishing (he added a goal of his own), all of it combined to make him United's most influential player in what was probably his best game of the season:
I imagine you're now thinking to yourself, Yeah, yeah, Martial's great, but your headline intimates that there's something somehow bad about this? Good timing, reader, for we've gotten there now. There's obviously nothing at all wrong with a super talented player like Martial enjoying a breakout season and developing into an important player on a team. There is something wrong when a player of this caliber is the best player on a team, and that team is held to the unrealistic standards foisted upon Manchester United. It's basically yet another example of United's distorted sense of self over the past few years.
G/O Media may get a commission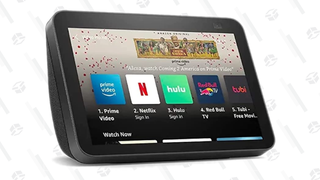 Martial is great, and watching him flourish should be and likely is a delight for United fans. However, when said fans and the media combine to hound the team for falling outside of the title race about halfway through the season and struggling to keep pace for the Champions League spots as well, you can tell that there is a problem of perception underlying it all. Louis van Gaal has been drawn and quartered several times over by the press and sections of the United fanbase for what they perceive as his underperformance. However, is the manager really failing to get the most out of his squad when the roster is filled with fairly new pieces whom he's arranged into a regimented and structurally sound unit that nonetheless relies on the inexperienced and still developing Martial as the Creator in Chief? What more could be reasonably expected from an attack that regularly features a Wayne Rooney who hasn't been at his best in years, a Juan Mata who has never rekindled the spark he so regularly showed during his first couple seasons at Chelsea, and a super young and raw Jesse Lingard?
If van Gaal deserves any blame for what admittedly been a disappointing season, it has to do with his role in assembling the roster available to him. True, the style of play the manager has implemented requires strict adherence to his positioning and careful ball movement principles, which, while shoring up what had been a sieve-like defense, have not regularly produced the number of chances and goals the team needs to rack up the necessary wins to mount a real title charge. But the fundamental problem with Manchester United is their lack of elite talent, the absence of players who slot into pretty good teams and make them great.
That United have found one such player who appears to be on the path towards becoming one of those transcendent talents is exciting and should inspire hope for a better future, one commensurate with the club's hallowed past. But in the rush to retain their lost status as the class of England and the world, fans threaten to overlook and fail to appreciate the necessary incremental steps on the journey back.
Photo via AP