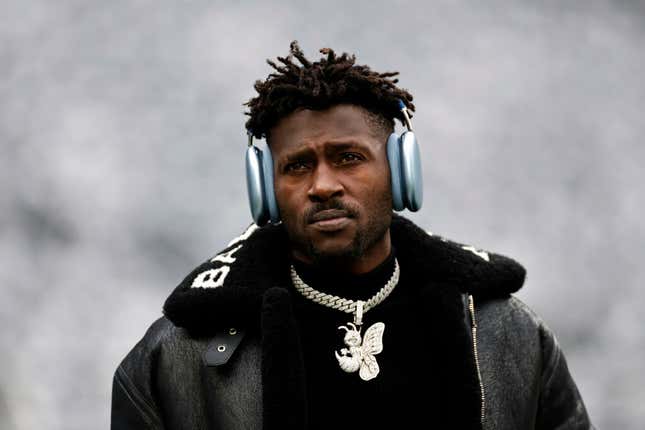 It's amazing sometimes to hear some of these star athletes talk and reveal the type of delusional world they dwell within. There's zero accountability, and no one close wants to play the bad guy. So, they go along through life, pointing the finger at everybody else whenever they mess up. Even when they are clearly wrong. Former NFL All-Pro wide receiver Antonio Brown is one of the biggest culprits when it comes to taking accountability for one's actions. Brown joined Tyrek Hill's podcast and continued with much of the same nonsense.

The season might already be over for these two
Brown is still deflecting blame more than a year after the infamous walk-off incident against the New York Jets. It's still everyone else's fault that he took off his jersey and shoulder pads, then proceeded to trot to the locker room while creating a spectacle for those in attendance. Of course, it's Tom Brady's fault for not throwing him the ball. Although, he'd been targeted five times to that point in the game.
Let's not forget about the coaching staff. Led by Bruce Arians, who, according to AB, pressured
him to play hurt. That might be the only truth Brown told surrounding the incident in Jan. 2022. We know the culture of football, especially in the NFL. So, no lies were detected there. Brown also talks about sucking it up and playing hurt for his teammates. But by the end of the third quarter, he felt so disrespected by Brady that he decided to walk off while some teammates tried talking sense into him.

There's a reason why players have taken to primarily doing other players' podcasts. These guys rarely, if ever, ask follow-up questions, or push back on anything they say. So, a guy like AB can go on Hill's show, and become the victim as if everyone is out to get him. Hill even said that Brown had been targeted and that people need to let him live his life and hasn't done anything to anyone. So, in other words, all the drama AB's been involved in over the past few years amounts to nothing.
Brown purchased a National Arena League football team earlier this year, and within a couple of months under his "leadership," they've been kicked out of the league. Like most of AB's business transactions, this one went sideways because Brown failed to make payments to the league's operating budget. That's probably Brady's fault, too, if you let Brown tell it. It certainly won't be his. He also allegedly reversed the final paychecks of coaches and players following the end of the Albany Empire's season. That certainly sounds odd, but it's hard to put anything past Brown at this point.
Guys like Brown will continue to have a platform as long as they are allowed to continue strolling through without any checks and balances. He doesn't have to deal with traditional media anymore. As long as he's got an NFL buddy with a podcast AB can stay on his high horse and never have to answer for his mistakes, no matter how bad they may be.