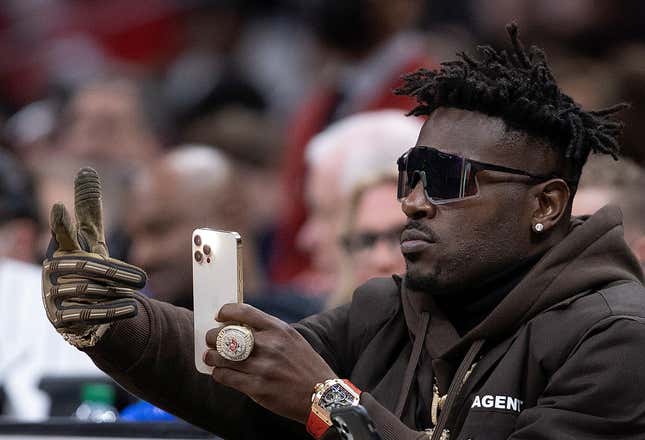 It appears that Antonio Brown won't be suiting up with the Albany Empire this season after the National Arena League terminated his squad's membership agreement.
I'm deeply concerned about Antonio Brown's X-rated Snapchat
It happened "after an emergency conference call of the members in good standing to discuss the Empire's failure to pay their league-mandated and overdue assessments," according to a news release from the NAL.

According to the NAL, teams are supposed to pay one-seventh of the league's operating budget t via monthly assessments starting in April. The NAL also said AB refused to pay a $1,000 fine for conduct detrimental to the league — which he called "trash."
Brown later said the Empire plans to join the returning Arena Football League next season.
AB compares himself to Trump
The former NFL WR was practicing with his team on Wednesday — ahead of his team's game against the Jacksonville Sharks, and three weeks after AB said he would suit up and didn't — and compared his situation to that of ex-POTUS Donald Trump.
"I like Donald Trump," Brown said, according to The Times Union. "He outsmarted everyone. That's why he's the president. You know why he get(s) hate? Because he had a different level of position than anyone in the world. You know why they hate him? Because they actually love him. Love and hate is the same."
Brown's ownership has been a disaster since the start
As we've previously written, the ex-Steeler was allegedly behind on payroll, causing a mass exodus of players — including the team's lone quarterback. Empire players were supposed to receive payment every Friday following each team's game, it was reported. According to CBS6 anchor Chet Davis in Albany, food vouchers were also not delivered that week.
Brown stumped for Cam Newton to suit up for the Empire, offering the former NFL MVP $150,000 for one game.
Brown has a long documented history of problematic and erratic behavior. Sometimes it's serious allegations; other times it's a cry for attention — and help. We wrote about him allegedly owing — and paying after an arrest warrant was issued — more than $30,000 in child support to his ex.
He's also been a mainstay in our Idiot of the Month/Year lists.
The 34-year-old Brown hasn't played in the NFL since the 2021 season, famously stripping and walking out on his Tampa Bay teammates during a game.