In an interview with Newsday, Antonio Cromartie tells Bob Glauber that he has learned from the reckless spending that nearly ruined him in his youth and "[r]ight now, I'm all about saving money."
Cromartie estimates he spent nearly $5 million in his first two seasons in the NFL on cars, jewelry, friends, family and houses.
"I had two Dodge Chargers, probably spent $100,000 just fixing them up," he said. "I had a '65 Caprice, which I spent $100,000 on. I had two BMWs, two Escalades."

Cromartie doesn't remember the other two cars. And he said he came close to buying a Lamborghini, a car that can cost $500,000 or more.

"I was out of control," Cromartie said. "I remember [former Chargers teammate] Quentin Jammer used to tell me to slow down, but I couldn't do it. I just loved spending money."
Now, like any man with a family, Cromartie loves saving money and driving a sensible, environmentally-friendlier automobile. He is so hooked on saving money that his financial adviser's kids call him "Uncle Antonio." He's also passing on words of wisdom to younger players. Specifically, don't spend any money your first two years in the league. "You don't know what will happen after that. You might be released. You might be hurt. Just save your money."
G/O Media may get a commission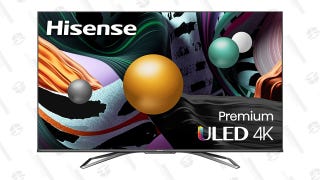 Save $350
Hisense ULED 65" Android 4K HDR Smart TV
That is some seriously sensible advice for any athlete, especially guys in the NFL. Some guys figure out life and what it means to be a responsible adult when they become a dad for the first time. Others figure it out a little later.
Photo Credit: Getty
Antonio Cromartie an unlikely mentor for younger players dealing with financial issues [Newsday]