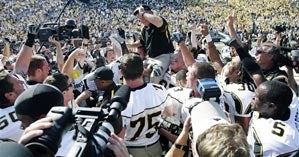 We can understand that Appalachian State fans would want to remember their upset victory over Michigan forever, keep it close to them so that, in moments of despair, they can remember that anything is possible, that the world can be a transformative place. (Particularly when Michigan is terrible.) But, frankly, this seems a bit over the top.
You see, some App. St. fan got a tattoo of the Michigan Stadium scoreboard on his ass.
"There was one guy just last night - an older, wealthy type - and he wanted a tattoo of the scoreboard from last week right on his [butt]," said David King, co-owner of Ink Link (tattoo shop in Boone) whose arms have more color than an ice cream shop's freezer. "We put it on him - the score, the game clock, the whole thing - right on his [butt]."
You know, if he would have kept the scoreboard advertising spots open, that thing would have paid for itself.
Smell To The Victors [AppFan]