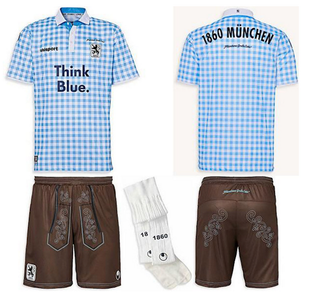 When I first saw this alleged 1860 Munich uniform, inspired by Oktoberfest and mimicking the Bavarian national costume, I thought it must be a joke. Gingham, collared shirts? Lederhosen? But it's real. And I think I kinda love it now.
Fans agree, as the club has already sold out of the kits. To get one now, you have to check eBay. Here's what it looks like on an actual person, though I still can't imagine players on a pitch wearing it:
Don't worry, Bavarians. Though the team might have run out of jerseys for you to rock this weekend, there's no way they're running out of beer.
Top photo via Twitter