For all the talk last week about the supposed "offensiveness" of Lance Armstrong's joke at the ESPYs about Jake Gyllenhaal "liking it in the rear," many have noticed that the non-doping Tour de France dominator and the guy who looks like Spider-Man but isn't have been hanging out a bunch of late. Their interaction has been an international mystery that has plagued sports fans for minutes ... no, hours!
Well, be not confused any longer, friends. It turns out that Gyllenhaal is going to play Lance Armstrong in a movie about the cyclist's life.
Gyllenhaal and Armstrong have become pals during Jake's method process to get to know the sports legend. The actor of Brokeback Mountain and Jarhead fame is even a long-time cyclist and has begun training for the film.
This, of course, will likely end up being the top story to come out of the Tour de France over the weekend, eclipsing Floyd Landis' rather awesome victory, even though he's having surgery soon that could possibly end his career. (The AP story about the win of course quotes Armstrong in the second paragraph; Landis doesn't get to talk until the fourth.)
By the way, we think we can all agree that Sacha Baron Cohen should play the buffoonish French doping investigator, yes?
G/O Media may get a commission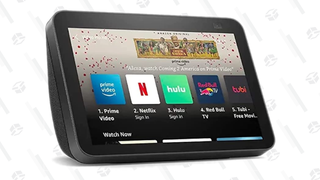 Jake Gyllenhaal Wants To Play Lance Armstrong [Deadline Hollywood]
Landis Wins Tour De France [Forbes]