All right everyone, we're about to discuss a hockey fight, so I need you to put on your level heads. There's going to be talk of league office discipline, and a bit about the culture of enforcers, and maybe even a mention of concussions. These are topics that cause otherwise normal individuals to lose their minds, so we don't need hotheads, or meatheads, just a level head. Okay? Okay.
The Penguins and Capitals genuinely dislike each other. So when Washington's Jay Beagle got whacked from behind, he whirled and went after Kris Letang, knocking his helmet off. Beagle got whistled for roughing, which is correct. But it's not enough to satisfy the code, so Pittsburgh's on-ice tough guy Arron Asham sought out Beagle to inflict further punishment.
Here's where it gets trickier: Beagle's a scrappy player, but he's not a scrapper. With just a handful of fights in the AHL, he's the last guy who'd want to go toe-to-toe with Asham. The code is supposed to be self-policing: this kind of mismatch isn't supposed to happen. But it obviously wouldn't have without Beagle's dropping the gloves. Even though Asham was clearly the pursuer (and should have taken an instigator penalty—more on that later), and Beagle was so out of his element that he was illegally wearing a visor during a fight, Beagle knew that what he did to Letang warranted a chance at payback. We're not debating the "code" itself. The fact that everyone on the ice knew it, and knew what had to happen, that's enough. Nobody did anything outside the lines of taste or honor.
It was honor that made Beagle drop the gloves, presumably. He could have skated away, refused to fight. But that would have made things worse for himself and teammates later in the game, so he had to face the music right then. Hockey players will always choose their honor over fear of injury, so the league's concussion awareness blitz will only be so effective in the face of an ingrained culture.
So Beagle got his shots in against a passive Asham, who was just noticing Beagle's lack of defense. When Asham decided to strike, one punch, two punches, instant unconsciousness. And as a victorious Asham skated off to the penalty box, he did two things he wishes he could take back: he "waved off" the fight like a boxing referee signaling a knockout, and he made a "go to sleep" gesture straight out of pro wrestling.
G/O Media may get a commission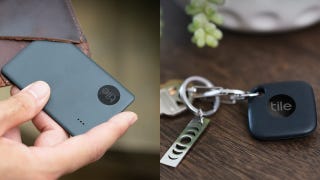 Up to 35% off
Tile Item Trackers
Here is where the self-righteous place a screengrab of his "go to sleep" taunt next to a scan of an enforcer's CTE-addled brain. But to think Asham was celebrating long-term damage to another player is just asinine. He is a fighter who won a fight. At home, down a goal to a rival, with thousands of fans cheering their heads off for him, he did exactly what he's put on this earth to do: defended a teammate and won it convincingly. "It's called adrenaline," writes Greg Wyshynski. "If you're going to have guys that do that job for a living, you can't expect them a millisecond afterwards to flip the switch off," said Bob McKenzie.
Asham himself couldn't have been more contrite. He gave the dazed Beagle stick taps and applause as he skated off the ice (removing a tooth in the process). After the game, unprompted, he had this to say:
"It's unfortunate the way the fight ended. Obviously I want to win. I don't want to go out there and hurt anyone. My gestures at the end there, I was into the game. It was uncalled for. Classless on my part. I think those guys over there know that I'm not that type of guy to be going off. It was a big game you know. I wanted to get my bench going. Classless move on my part."
What more could you want? Some want a pound of flesh from Asham, in the form of a fine or suspension. Pittsburgh won that battle with no repercussions. Because of Beagle's roughing call (served by Alex Ovechkin), and because Asham wasn't given an instigator penalty, the Penguins went on the power play. They didn't score, but momentum shifted and they tied up the game and salvaged a point. Is that Asham's fault? Discipline czar Brendan Shanahan, who's been entirely transparent in his decisions, ought to release a video saying "This is something that should have been taken care of on-ice. If the officials had applied the instigator rule on Asham (a two-minute minor, and a ten-minute misconduct are both options on the table, although neither are ever invoked these days), both he and his team are punished for his aggression, and this becomes a non-issue." Take care of these things in the game, and there's no need to drag them out in the media for days afterward.
Are we all set? Good, you can remove your level head now and move on to the debate over whether fighting belongs in hockey at all.