Here is an easy prediction to make: the Philadelphia Eagles are certainly not going to repeat as Super Bowl champions. It's very unlikely, at this point, that they will even return to the playoffs. Their 4-6 record relays that information plainly enough, but the 48-7 loss they suffered at the hands of the Saints on Sunday adds some important texture to a grim set of facts.

It's certainly never good to give up 48 points in an NFL game, but no team should ever be all that ashamed about getting smashed up by this Saints offense. Such a smashing would not be enough to earn anyone a spot as Ass Team of the Week, even when it's as smashy and mashy as Sunday's was. What has brought the Eagles to the butt house is the fact that their offense spent the entire game in a state of constipation.
The Eagles gained just 196 yards of total offense, went 3-of-10 on third-down conversions, and were dragged down by the assy showing of Carson Wentz, who put up a Peterman-ian 156 yards and three interceptions on the day.
It was very weird to watch this all happen! Not only because the Eagles seem to possess enough skill players to prevent such a full-spectrum disaster from happening—didn't you just trade for Golden Tate, Eagles?—but because this is a team that is less than a year removed from hanging 41 points on the goddamn New England Patriots while winning the goddamn Super Bowl! Remember that shit? Remember how the 2017 Eagles scored 28.6 points per game, continued lighting everyone up even after Wetnz's MVP-caliber season was cut short, and finished with a 13-3 record? It wasn't that long ago that we were watching this team overwhelm defenses with slick offense featuring the kind of RPO plays and vertical attacks that earned Doug Pederson the praise that Sean McVay and Andy Reid are enjoying today. The Eagles were right there on the forefront, just last year, in helping to usher in the bold, high-scoring future of football.
None of that was anywhere to be found on their side against New Orleans. Instead of using those big haunches to fire off deep balls that sail over multiple defenders and land in the arms of a streaking receiver, Wentz spent his afternoon making disastrous underthrows like this one:
When he wasn't doing that, he was stalling and sputtering in the pocket, robbing Pederson's scheme of whatever electricity remains within it:
As for the scheme itself:
Not great!

A bad game like this nestled within a disappointing season does not mean that Eagles' run to the Super Bowl last season was a fluke, or that Wentz is not actually a franchise quarterback, or that Pederson is actually an idiot. All it means is that the Eagles are currently caught up in the churn of the NFL, which never stops and knows no mercy.
G/O Media may get a commission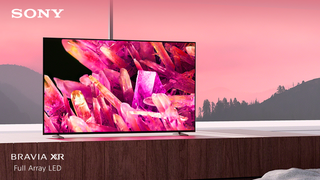 $400 off
Sony 55 Inch 4K Ultra HD TV X90K Series
The Eagles aren't alone in this. The NFL moves so fast these days, and every team, player, and coach is under constant threat of being left behind. One year Cam Newton is the best player anyone has ever seen and the Panthers are unstoppable, and the next he's just a guy who gets hit a lot and the Panthers sort of stink; the RPO is a secret weapon that takes the league by storm and then it's kind of trash and then it's great again; the Jaguars have the best defense in the world and Leonard Fournette is bringing back old-school running and then neither of those things are true and also defense no longer wins championships; the Eagles are leading the offensive revolution and then suddenly they're struggling to score 20 points a game.
The cycle turns and turns and those recessions are always lurking, but it feels particularly cruel when the gears grind up a team before it even gets to enjoy a Super Bowl comedown season. Psychotic Patriots fans expect a Super Bowl every year, but Eagles fans probably would have been happy with a competent 10-6 season and an early playoff exit, the kind of campaign that leaves the opportunity to say, "Ah, who cares. We won the Super Bowl last season!"
Instead they've gotten this thwarted hungover disaster of a campaign, one in which the Eagles are not only losing but losing ugly. Every cornerback on the team is hurt, they've scored more than 30 points just once (against the shit-ass Giants), and not one player on the squad has done much to get excited about. What's the best reason to tune into an Eagles game these days? To watch Wendell Smallwood maybe bust out a few eight-yard runs?
Maybe the best reason to watch the Eagles is to be reminded of how the world works. It's been just over nine months since the Eagles capped off their incredible season by winning one of the most exciting Super Bowls in history, and now they find themselves at the bottom of the league's ceaseless churn. I'm already having trouble remembering the details of what they accomplished almost a year ago. Eventually I'll get so old that I won't remember that the Eagles are a football team, or where Philadelphia is, or what football even is. Then I'll die. The world will forget about me, too.