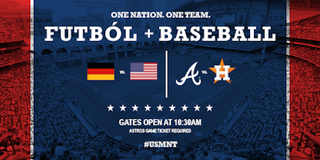 The Houston Astros are still in their rebuilding period, so a decent crowd has been tough to come by in recent years. Houston is 25th in the league in attendance and averages just short of 23,000 per game and only the Rays have a worse record in the American League. Some folks do think the light at the end of the tunnel is growing brighter, but it's still at the end of the tunnel. So, when folks are not quite interested in what you've got going on, sweeten the deal with dirt cheap hot dogs and...soccer?
OK, pretty cool. The Astros are opening the gates to Minute Maid Park early tomorrow to let people come in and watch the USMNT take on Germany before the Astros game against the Braves. The only catch is, you've got to have a ticket to the baseball game to get in for the soccer match. Which means if you weren't already going to the game, and want to watch USMNT in a pretty cool venue and share in a potentially awesome experience with a bunch of other people, you have to buy a ticket to the Astros game. Or else.
It's a good idea—capitalizing on the crazy-popular run the American team is on right now just makes sense—but it also means that soccer is being used to sell baseball tickets.