An awful lot to unpack from last night's Brewers-Braves bench-clearing scrum/fracas/donnybrook/other term that only gets used for baseball near-brawls. It started after Carlos Gomez took his time rounding the bases after homering off Paul Maholm, jawing at three different Braves along the way. But if you ask Gomez, it really started when Maholm hit him with a pitch back in June.
Gomez was hit by Maholm on June 23, his second HBP at the hands of Maholm, and he believes it was intentional and has been biding his time. "I've been in the league seven years," he said, "and I know when I get hit on purpose and when not."
Gomez stood at the plate for a second, admiring his blast. He claims he "didn't disrespect anybody"—he merely told Maholm, "You hit me, I hit you. Now we're even."
At first base, Freddie Freeman says he told Gomez "to act like he'd done it before on the bases and start running."
As he rounded third, catcher Brian McCann came up the line to meet him. No one would say afterward what pleasantries the two exchanged—Gomez called them "bad words"—and benches emptied.
G/O Media may get a commission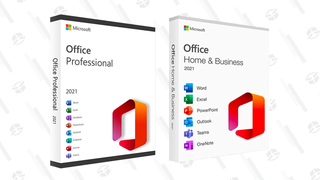 89% off
Microsoft Office Professional 2021 Lifetime License
Remarkably, only Gomez and Freeman were immediately ejected. Crew chief Dana DeMuth said that other than those two, "nobody else was overly aggressive." Which—did he not see McCann or Reed Johnson, barreling in from the dugout throwing punches? After things died down, Gerald Laird was ejected for yelling from the dugout.
Gomez was of two minds in the clubhouse after the game. Unrepentant Gomez:
"I don't apologize for this," Gomez said. "Just take the pain back. You can see the replay. They hit me for no reason, and I tried to get it back today. It's the only opportunity that I have. That's what I did."
"I respect McCann, all he's played, and I'm apologizing to his manager, the organization. I know it didn't have to (go) that far, but, you know, the adrenaline, the emotions take you more than you expect."
Braves manager Fredi Gonzalez wasn't so forgiving, calling Gomez's actions "embarrassing for a professional baseball player." Having long ago clinched the division, the Braves have stumbled through September, and with last night's loss no longer have the league's best record, and with it homefield advantage through the NLCS.
Also, weirdly, this pushing-and-shoving-after-home-run-taunting seems to happen to the Braves more than random chance would predict. It's not even the first time this month McCann confronted a batter after completing his trot.
And now to answer the question every baseball nerd immediately thought of upon seeing the replay: Yes, Gomez was awarded a home run, even though he didn't touch the plate. The official ruling was that McCann obstructed the runner, and DeMuth gave the run to Milwaukee.