Sample on-air exchange between Channel 9's Mick Molloy (pictured) and Eddie McGuire: 'They don't leave anything in the locker room these blokes, do they?' 'They don't leave anything in the closet either, do they?' More like a triple LULZ!
Seems Aussies are up in arms over this wacky pair of yuksters, apparently well-known for "their own brand of schoolboy humour". The t.v. station has been fielding numerous complaints, gay rights activists have publicly condemned them, and someone even went and started a Facebook page. The reason? A number of remarks made during national broadcasts of the men's figure skating event, including the quote above, and the following:
• McGuire's description of Japanese skater Daisuke Takahashi's festive cowboy outfit as "a bit of Brokeback".
• On the first day of competition, Molloy (who incidentally would make one hell of an Artie Lange impersonator, were there a market for such a thing) joked that organizers were shocked to learn that one of the skaters was not gay. The next day he apologized by saying: "'I suggested that there was a disaster happening at the ice skating rink because organisers had found out one of the male ice dancers wasn't gay. And I apologise for that really sincerely...[cue Johnny Weir taking the ice]...but it definitely wasn't this guy."
The most amazing part of this whole thing is that these guys got in more than one of these jokes on national television without first getting yanked. You try that shtick around these parts, and Joe Buck will be in the booth personally striking you down faster than you can sink a stubby, which is Australian slang for, presumably, drinking a beer.
G/O Media may get a commission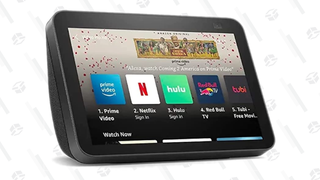 'It's a little bit Brokeback Mountain': TV commentators accused over gay skating jibes [Daily Mail, via Ben Maller]