We've got a major cricket scandal, folks. A young Australian player was caught more or less red-handed doctoring up the ball, so obviously and egregiously that his team's captain was forced to come clean and cop to a plot among the team's leadership. This is from a Sport 24 report:
Australia's captain Steve Smith and rookie opener Cameron Bancroft have admitted to ball tampering in the third Test against South Africa at Newlands on Saturday.
Jokic? Embiid? The NBA MVP is obvious... right? | Keep it a Buck(et)
As I understand it—which is to say, I recognize most of the words in the report, although not necessarily the order in which they appear—Bancroft was spotted using a hidden yellow object to doctor the ball, and when he realized he'd been made, he tried stuffing the implement down his shorts and lying about its use, to no avail. Per The Guardian:

Questioned by the umpires, Nigel Llong and Richard Illingworth, he maintained it was only a cleaning cloth being applied to the ball. The 25-year-old, in his eighth Test, later described that blatant lie as a product of panic at realising he had been caught.

"I have been charged with attempting to change the condition of the ball," the opener said before admitting his guilt and detailing what he had been up to. "We had a discussion during the break and I saw an opportunity to use some tape, get some granules from rough patches on the wicket to change the ball condition. It didn't work." Too right it didn't.

It is my understanding that the desired effect of this doctoring of the ball would be something called "reverse swing." "Swing," in cricket, is like movement, or "stuff," in baseball—a slider that bores in on a righty, for example, could be said to have "swing." "Reverse swing" describes when the ball moves in the direction opposite what would be expected via "normal swing"—in baseball terms, the screwball could be said to have "reverse swing." In cricket, reverse swing is apparently mostly possible with old-ass balls, which have been doctored at least by heavy use, if not by other, more deliberate means. Hey, here's a fun quote:

"It didn't work, and the umpires obviously didn't change the ball, but I guess once I was sighted on the screens I panicked quite a lot and that resulted in me shoving it down my trousers."
G/O Media may get a commission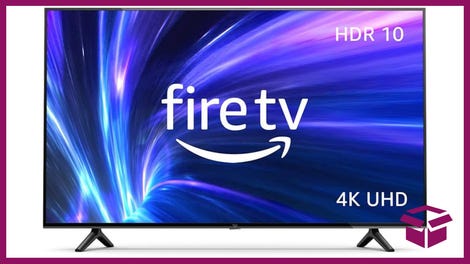 42% Off
Amazon Fire TV 50" 4K Smart TV
And here is a slow-motion closeup of a man jamming a yellow thing down into his shorts, next to his dick and balls:

So Bancroft was trying to scuff up the ball to make it harder to hit, and was spotted, and tried to lie his way out of trouble. After the match, the Australian captain—a man named Steve Smith—decided to take the heat off Bancroft and let the light of the sun in on a leadership-level conspiracy:
Smith, equally as rattled, then acknowledged that he was part of the decision to go ahead with the efforts to disrupt the ball.

"The leadership group knew about it," he said.


"We spoke about it at lunch.

"I'm not proud of what happened. It's not within the spirit of the game and my integrity, the team's integrity, the leadership group's integrity has come into question and rightfully so.

"It's not on and it won't happen again, I can promise you that, under my leadership."

Smith would not, however, reveal exactly who had come up with the idea.

"I'm not naming names, but the leadership group talked about it and Bangers (Bancroft) was around at the time. We spoke about it and thought it was a possible way to get an advantage," he said.
Smith was firm that he should stay on as captain, even after the disgrace of having been caught cheating, but that lasted only a few hours. Per Cricket Australia, Smith and vice-captain David Werner have resigned:

Cricket Australia CEO, James Sutherland said:

"Following discussions with Steve Smith and David Warner they have agreed to stand down as Captain and Vice-Captain respectively for the remainder of this Test match.


"This Test match needs to proceed, and in the interim we will continue to investigate this matter with the urgency that it demands.

"As I said earlier today, Cricket Australia and Australian cricket fans expect certain standards of conduct from cricketers representing our country, and on this occasion these standards have not been met.
The new captain will reportedly be Tim Paine. All of Smith, Werder, and Bancroft are still on the team. OK. Good talk. Carry on. (Here is a cricket-knower with some perspective.)