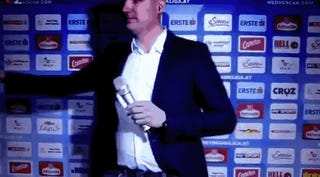 Tom Zanoski of Medveščak Zagreb in the Austrian Hockey League really didn't want to talk about how that first period went. Or, anyway, he didn't want to do it as much as he wanted to start throwing punches. Despite a TV reporter politely tapping Zanoski on the shoulder during the first intermission of his game on Sunday, his attention was turned elsewhere—primarily, he was focused on trying to beat up HC Bolzano's* Chris DeSousa. The two dropped the gloves right in the locker room hallway and brawled in a style that was more bar fight than hockey scrap.

After the dust cleared, neither Zanoski nor DeSousa made it back on the ice. They each got game misconduct penalties.
*Those wondering why teams from Zagreb and Bolzano play in the "Austrian Hockey League" will be pleased to learn that the EBEL includes a team each from Croatia, the Czech Republic, Hungary, and Italy, besides its Austrian teams. The more you know!