Welcome to Bad Quarterback Performance Of The Week, a recurring feature in which we celebrate the worst quarterback play the NFL has to offer.
The best sports movies according to Toheeb Jimoh
Somewhere out there exists the perfect Bad Quarterback box score. It's a score with something like "20/43" in the C/ATT column, a "224" in the YDS column, a big fat "0" in the TD column, and an even fatter "3" in the INT column. San Francisco 49ers quarterback Brian Hoyer came nowhere close to reaching that ideal on Sunday, but he did manage to create a truly startling box score. It's one that looks like it belongs to a different sport:

Is that a "99" next to the "15/27"? What happened here? Is this from a hurling match? Was Brian Hoyer hurling?
G/O Media may get a commission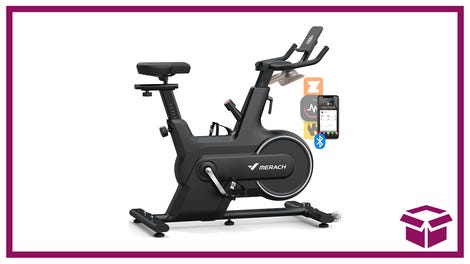 14% off + Coupon
Merach Indoor Cycling Bike
No! Brian Hoyer was not hurling, but playing some of the least ambitious football you will ever see. Whether this was a function of his own limitations or head coach Kyle Shanahan's scheme is beside the point. The point is that the football was very bad.
So how do you complete 15 passes for just 99 yards? By never daring to throw the ball much farther than the line of scrimmage. Hoyer ended his day with a piddly 3.67 yards per attempt, and only attempted four passes that traveled farther than 11 yards in the air (he completed none of them).
Although maybe it was a good thing Hoyer spent most of the day in the kiddie pool, because his adventures into the deep end led to a few disasters. Hoyer's first pass attempt of the game was a long throw that was too high for a wide-open Marquise Goodwin to get his hands on along the sideline. The next play was a pass over the middle that, well, could have gone better:
That almost looks like it was a designed route for Bobby Wagner.
The rest of the game consisted of Hoyer throwing what felt like 500 check-downs and screen passes. A bunch of GIFs showing the futility of these passes would not be a good use of our time, as there's not really much to show. Close your eyes, and imagine Hoyer flicking a ball into the flat that Carlos Hyde catches before getting pushed out of bounds for a one-yard gain. Can you see it? Okay, great, you've seen most of the game.

Instead of going over every useless dink-and-dunk play the Niners threw at the Seahawks, let's look at what happened when Hoyer did try to stretch things out a bit. The pick to Wagner was pretty bad, but this is something else:
This GIF is like a magic trick. Watch now as Brian Hoyer throws a deep ball down the sideline... and makes his receiver disappear! The officials were so confused by this play that they milled around for a few seconds before throwing a flag for intentional grounding, but not until the Niners were already huddling up for second down.
Hoyer tried to go semi-deep again in the third quarter, only to be once again thwarted by Bobby Wagner's invisibility cloak:
It's a good thing Wagner was there to blow up that play, because Hoyer had Goodwin wide—oh I'm sorry no that was blanket double coverage.
What I've failed to mention so far is that this was a very winnable game for the 49ers. Seattle's offense was also butt, and the game was a 6-6 tie well into the fourth quarter, and the Niners even took a 9-6 lead late in the game. Seattle responded by finally putting together a long touchdown drive, but left San Francisco with plenty of time to strike back.
Down 12-9 with seven minutes to play, Hoyer and the offense took over at their own 20. The first play was a Carlos Hyde run for no gain. With the clock ticking and his team desperately in need of a scoring drive, Shanahan cooked up this play on second down:
Right. Okay. So then it was third and nine and time for Brian Hoyer to come up with the big play his team needed:
Hmmm. The 49ers punted on fourth down. Seattle bled 4:47 off the clock and never gave the ball back. The 49ers lost.