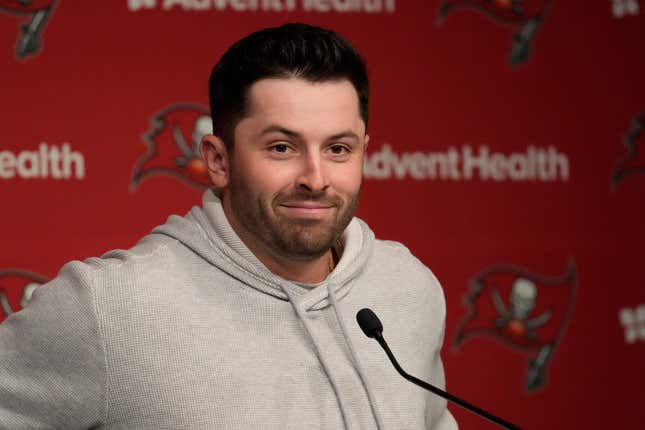 We haven't heard much from Tampa Bay Buccaneers quarterback Baker Mayfield this summer. After signing a one-year deal with the Bucs in March, it's been relatively quiet on the home front for Mayfield, which is unusual. His name hasn't been mentioned much this offseason outside of Tampa. Now that training camps are just about ready to start, we're hearing from Mayfield himself, and it seems he's already taking on a leadership role for the Bucs.
Which NFL QB will be the first one benched? | Agree to Disagree
"Obviously, Tom Brady, the greatest quarterback of all time; everybody talks about that," Mayfield said. "But that only makes our veterans that were a part of the Super Bowl run even more pissed off and hungry. Because they're like, 'Well, we're a part of it, too."
Realistically it will be tough for Tampa Bay to accomplish what they did with Brady during his three stints with the team. While it feels like Mayfield is the frontrunner to officially be named starting QB over Kyle Trask, no one outside that Bucs locker room envisions anything close to Brady's first two years with the organization.
If Baker wins the job, he doesn't have to be Brady; that's nearly impossible. Mayfield needs to help make the Bucs a competitor and hopefully improve on last year's record, which was under .500. Although Mayfield only has one season where he finished with a winning record as QB1 (2020), some believe he's got what it takes to help turn this Bucs franchise around.
"I believe that Baker Mayfield is the human form of a defibrillator. He can revive dead situations," Acho said.
One of the few who still believes in what Mayfield can do is the host of FS1's Speak, Emmanuel Acho. He's a longtime admirer of Mayfield and usually goes out of his way to defend Baker against critics. But comparing a QB with a 31-38 record and a career completion percentage of 61.4 is hyperbole at its finest. Acho is also a huge LeBron James fan, so how about we call him "King Hyperbole" moving forward. Let's keep it a buck. Mayfield led the Browns to one winning season in four years.
Never once does Acho mention anything about records or even stats. If you want to say Mayfield took Cleveland from a one-win team to six wins, fine. But is that really something to brag about? Baker was 1-3 in four starts for the Los Angeles Rams last season. Yet he revived them. He was also 1-5 with the Carolina Panthers in 2022. Of course, none of that fits the narrative Mr. Acho laid out on the show. Why let facts get in the way of a good segment, right?
During his NFL career, Mayfield has been at times, but to act like he's saved all these teams is ridiculous. He can be good when he's got the right mix of talent and coaching around him. Nothing like a "human defibrillator," but we'll let Acho roll with that and see if he's still talking about Baker by November.