Baltimore 31, New England 30: A see-saw affair between everyone's favorite AFC powerhouses also had some feel-good moments. Torrey Smith had two touchdowns, the second of which brought Ravens back within two with four minutes left in the game. The Ravens held the Patriots on their final possession, forcing a punt before the two minute warning and with the help of some nice catches and defensive penalties won the game in the final seconds with a 27-yard field goal. At least I think they won it with a field goal. NBC just showed the same impossible angle over and over.
Woops!: After Smith put the Ravens on the board with his diving catch, Dennis Pitta gave the Ravens the lead, momentarily, with the old jump over terrible tackling move. Pitta victimized safety Steve Gregory on this one but, of course, the Patriots marched right down the field and took the lead back before the half.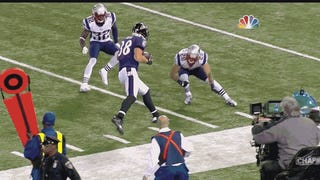 Poor Deion Branch: The guy is, like, older than dirt and by the end of the game that's probably what his bones resemble. He took a big shot from Ed Reed earlier that was flagged, even though it looked like he may have ducked into Reed's shoulder. But there was no doubt about the cleanliness of this shot. With 8:28 left in the fourth quarter Tom Brady found Deion Branch who promptly ran into a brick wall for no gain. the Patriots would later punt, leading to the second Torrey Smith touchdown.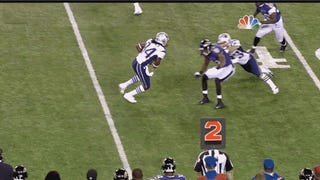 To: Replacement Referee
Will you be my valentine? Check one.
[] Yes
[] No
[] Maybe
Love,
John Harbaugh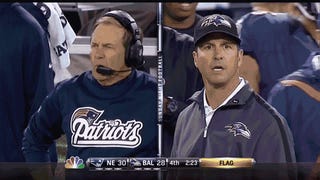 To: Replacement Referee
Will you be my valentine? Check one.
[] Yes
[] No
[] Maybe
Love,
Bill Belichick